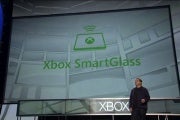 Microsoft is hoping to create an immersive experience across multiple devices where users can consume different, complementary content on each platform with new software called Xbox SmartGlass, unveiled at the E3 entertainment expo.
To see SmartGlass at E3, watch this video on YouTube.
At this year's show, Microsoft made its hardest push yet for content other than gaming on its console. Trying to entice a general audience rather than just hardcore gamers, Microsoft showed that SmartGlass could work with television shows, movies and Web browsing.
In one example a promotional video showed how gamers playing Madden NFL could craft a play on a tablet, then execute the play in the football game. Once a gamer picked up a tablet, the game would pause, then resume once the settings were adjusted. In another example, a gamer playing Halo 4 could access additional information after reaching a waypoint in the game. The tablet content included player statistics and a closer look at the game's plot line through a series of videos.
Microsoft also showed how a user could start watching a movie on a tablet, pause it, and then resume watching it on a television.
Marc Whitten, vice president of Xbox Live, demonstrated how SmartGlass could be used with TV shows. While playing a clip from HBO's "Game of Thrones," a tablet displayed a map of where the scene was taking place.
"My phone and tablet are keeping up with all of the action on the TV," he said.
In addition to games, television shows and movies, SmartGlass worked with Web browsing. Game consoles like Xbox 360 and Sony's PlayStation 3 have long featured Web browsers, but they've typically been difficult to navigate with a game controller. Whitten showed how consumers could use a smartphone to control what's happening in Internet Explorer on Xbox. He scrolled through a Web page and was able to pinch to zoom in. All actions on the smartphone were also completed on the Xbox-connected television.
SmartGlass will work on Windows 8 PCs and tablets, Windows phones. and other devices like Apple's iPad.
Nick Barber covers general technology news in both text and video for IDG News Service. E-mail him at Nick_Barber@idg.com and follow him on Twitter at @nickjb.