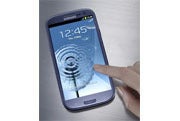 The Samsung Galaxy S III news keeps on rolling in. AT&T and Verizon both announced that they will start taking pre-orders for the Galaxy S III on June 6. You can pre-order from Verizon starting at 7 AM EDT or sign up to pre-order from AT&T.
The AT&T version, which will run on the carrier's 4G LTE network, will cost $200 with a new two-year contract. It appears that AT&T is only selling the 16GB model, but customers will be able to buy an additional 16GB microSD card for $39. AT&T will sell the phone in both the Marble White and Pebble Blue colors, but will also get an exclusive red version later in the summer–perhaps in time for July 4? The carrier has not stated when the phone will actually ship to customers.
Verizon hasn't announced an official ship date either nor has it announced models or colors. The carrier has only confirmed that the phone will run on its 4G LTE network and prices will start at $200 with a new two-year contract. We'll update this article as we learn more.
The Samsung Galaxy S III will be available on five carriers total–the others are T-Mobile, U.S. Cellular and Sprint. Here's some information on pricing and availability from those carriers. We got our hands on the global version of the phone last month — check out our first impressions. We expecting review units of the U.S. version later this month, so stay tuned for a full-rated review and more coverage of the Samsung Galaxy S III.