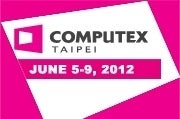 The Computex technology show in Taipei–one of Asia's largest–started Sunday with a bang, showcasing hybrid laptop/tablets running Microsoft's upcoming Windows 8 OS. The first laptops out of the gate are Windows 8 tablets with detachable docks from Asus and Acer and a sliding tablet PC from MSI.
Hybrid laptop-tablets are designed to offer the best of both laptops and tablets. You can use the devices in a slate tablet mode when all you want to do is tap the touchscreen…or access a physical keyboard for traditional laptop use. There are two kinds of hybrids to choose from: Those with built-in keyboards that swivel, slide, or fold into place or tablets with removable keyboard docks.
Upcoming hybrids will leverage the touch-optimized Metro interface in Windows 8. They'll cost more than a slate tablet without physical keyboards (e.g., the iPad) but, in return, you get more versatile mobile computing devices running a full desktop operating system.
Here are the first of these innovative touchscreen laptop-tablet hybrids:
Acer Iconia W510
Acer announced two Windows 8 tablets at Computex, the Iconia W510 and Iconia W700. The Ionia W700 comes with a cradle for multiple viewing angles, but it's the 10-inch Iconia W510 that features a productivity-enhancing detachable keyboard dock, which extends the battery life of the tablet PC to up to 18 hours. The W5110 can be rotated 295 degrees into "presentation mode" for streamlined PowerPoint presentations and video viewing.
Asus Taichi and Asus Transformer Book
Asus unveiled the Taichi, a dual-screen Ultrabook, and the Asus Transformer Book, a tablet with detachable keyboard dock.
Not to be outdone by other touchscreen Ultrabook makers, Asus has packed the Taichi with not one but two full HD In-Plane Switching (IPS) screens that can be used independently. The screen on the outside is a touchscreen. This unusual design allows two people to use the laptop at the same time. Imagine this: You could be typing up meeting notes while your kid taps away on the outer screen playing with a Windows 8 app.
The Asus Transformer Book is like the Windows version of the popular Asus Eee Transformer Prime Android tablet. It runs the full-blown version of Windows 8, uses Intel Ivy Bridge processors, and sports an NVidia graphics chip. Looking a lot like the gorgeous Asus Zenbook Prime Ultrabook—except that the screen detaches from the keyboard—the Transformer Book will also have IPS displays with full HD (1920-pixel-by-1080-pixelsresolution) and comes with 11.6-inch, 13-inch, and 13-inch sizes.
[RELATED: Asus Windows 8 PCs–Innovative or Just Novel?]
MSI Slider S20
The MSI Slider S20 is the first convertible Ultrabook on the scene. Like the "Cove Point"/Letexo concept device Intel showed off earlier this year, the Slider S20 has a screen that collapses into tablet-only mode or slides up to reveal a keyboard.
The Slider S20 is an 11.6-inch laptop running an Intel Chief River CULV processor (Intel's Ivy Bridge platform for Ultrabooks and tablets). Although we don't know storage, memory, or other details, MSI announced the Slider S20 will come with a full array of ports, including USB 3.0, Bluetooth 4.0, and HDMI, and that the display is a 10-point multi-touch screen.
More Convertible and Hybrid Laptops: Details to Come
As usual with devices introduced at trade shows, no prices or more detailed specs have yet been released for these devices. Also keep in mind that innovative devices are often showcased at shows but never actually come to market.
Still, these are very promising touchscreen laptops–and they're only the beginning. Expect others like them to be unveiled this week, and some to be ready for purchase in the fall when Microsoft Windows 8 makes its debut.
Follow Melanie Pinola (@melaniepinola) and Today@PCWorld on Twitter