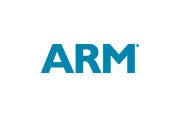 ARM on Tuesday showed a server using its processors built by Taiwanese manufacturer MiTAC, which will join U.S. makers Dell and Hewlett-Packard in producing ARM-based servers.
The GFX Server uses 1.6GHz ARM processors and is ready to run a version of the Linux-based Ubuntu operating system, which ARM showed in a live demonstration at the Computex exhibition in Taiwan.
ARM is a U.K. company that licenses processor designs to chip makers. Its designs are often used in mobile phones and other consumer electronics. The firm is targeting the lucrative server space, but acknowledged Tuesday that its processors will initially be best suited for less intensive tasks.
"Certainly web serving, what I would call middle-tier applications, like mem-cache is a good fit, and offline analytics," said Ian Ferguson, director of server systems at ARM.
ARM said the newly revealed server has a 4U rackmount chassis, with 64 ARM processors for a total of 256 cores.
ARM said the 32-bit server chips will go on sale this year, and Applied Micro will release the first 64-bit ARM platforms for servers in late 2013. Processors based on the ARMv8 platform will be released in 2014.
ARM is working to crack the server market, which is booming as companies expand their cloud-based services, but the company's architecture still lags behind rivals from Intel and AMD. While a majority of smartphone and tablet software is written for ARM processors, very little server software is being written for the architecture.
Still, the LAMP (Linux, Apache, MySQL and PHP) software stack has also been optimized for ARM, and Hadoop, Openstack and Java have also been optimized for ARM.
Dell has announced a low-power server with ARM processors. Hewlett-Packard has announced ARM-based server designs and chip maker Nvidia has mixed its Tegra 3 chips and graphics processors in a Barcelona supercomputer.
Computex, which runs this week in Taipei, is one of Asia's largest consumer electronics and component exhibitions.