You've probably seen the phrase "the consumerization of IT" bandied about. What does it mean? According to Microsoft, it's a blurring of the lines between people's personal and professional lives, driven by their desire to use the same technology at work as they use at home.
For IT managers, the phrase conjures up images of consumer smartphones and tablets–and the growing BYOD (bring your own device) movement–but it's apropos for software, too. In this article I'll examine four consumer-grade applications and show you how they can improve your professional life.
Travel Planning
TripIt is a fabulous and free personal travel-management tool that can easily adapt to the needs of small businesses. If you or your employees regularly travel for business, this tool can help you monitor where everyone is going, track how long they'll be out of the office, and manage the reservations-related minutiae that crop up with even the shortest of trips.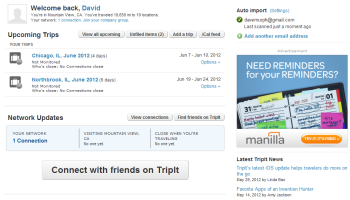 How does it work? First, set up a free account on TripIt. Next, assign someone to create a group for your company that will enable your employees to share their travel details. Once TripIt approves your request, ask all of the traveling employees in your organization to create their own accounts and sign up for the group. Congratulations: You're all connected.
One of TripIt's greatest features is its ability to scan a user's email inbox and automatically fill in itineraries for trips in the making. It's a far more elegant approach than having travelers comb through their email and fill out, say, an internal company spreadsheet listing arrival times, confirmation numbers, party sizes, and so on.
If TripIt's automatic-import feature doesn't play nice with your email system (it's most compatible with Web-based services, such as Gmail and Yahoo Mail), simply forward a copy of each of your travel-related email messages to a standard TripIt address. TripIt will automatically organize and import details associated with your flight confirmations, hotel and dinner reservations, car rentals, and the like into a trip itinerary, which you can then add to your personal or business calendar. You can access the program on the go via apps for iOS, Android, BlackBerry, and Windows Phone 7 devices, too.
Beyond that, you can easily share the travel information you store in TripIt with other third-party services, including preexisting business networks on LinkedIn, Yammer, or Xpenser (an expense, mileage, and time-tracking application). At the very least, these third-party add-ons can cut down on the amount of paperwork or digital files that you'd have to produce for every trip.
Productivity
Businesses large and small would be well advised to look into Google's free Google Apps for Business collection. All you need is a domain name: Google takes care of the rest with minimal configuration nonsense. Once your Google Apps package is set up, you're tapped into Google's Gmail email service and contact database, Web-based shared calendaring, Web-based word processing and spreadsheet apps (complete with collaborative editing), and Google Drive cloud storage, all branded with your business's name.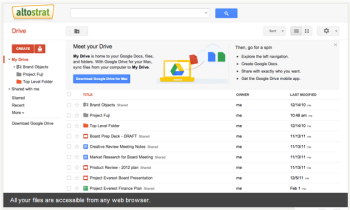 The catch? If you want Google to manage the core of your communications for free, you get only ten user accounts, each of which is entitled to 10GB of storage. That's sufficient for many small businesses, but larger entities will need to pay up. Google charges $5 per user per month, or you can save a little cash by signing up for one year of service at $50 per user.
You can still make use of Google's standard services on the cheap if you don't mind doing a little extra legwork. Integrating Google Analytics into your small business's website, for example, is as easy as setting up a Google account to represent your business, and you needn't use the account for anything other than logging on to the Google Analytics tool. Your employees can use their personal Google accounts to collaborate on shared documents and files via Google Docs or Google Drive; alternatively, they can create new, work-only Google accounts and link them to their personal accounts if they want a thicker wall between their personal and professional lives.
Cloud Storage
Even if your business is outfitted with the most robust servers containing terabytes of network storage, you could still benefit from using consumer cloud-storage services for stashing files, syncing folders on multiple computers, and collaborating with colleagues.
Services such as Dropbox, Google Drive, and SkyDrive make it easy to share files among departments, teams, individual employees, and outside contractors. Each service offers a set amount of storage for free, and you can purchase more as you need it. These services are particularly useful for special projects: Rather than granting network access across the board, you can create a folder in the cloud, store only the documents everyone needs for that project, and then share that folder with the people involved in the project. And for sending large files, cloud storage is more convenient than email, which typically caps the size of attachments.
Cloud storage also helps you keep files synchronized between your home base of operations, traveling staffers, and remote employees. This arrangement can save your IT team from creating secure VPN (virtual private network) connections and setting up secure remote-sharing capabilities on your corporate network. All you have to do is stash important files in your cloud storage and grant access to other people on an as-needed basis. Traveling or remote employees will have access on any device–PC, tablet, or smartphone–from anywhere they have Internet service.
Setting up such cloud services is as easy as providing an email address, downloading a small app, and establishing sharing permissions. That's a lot easier than configuring arcane connection settings on each person's computer, tablet, and smartphone.
Next Page: Online Backup
Online Backup
How much irreplaceable data resides on your business's computers? How will you recover that data if the machines suffer a catastrophic failure or are lost or stolen? That data is vulnerable even if you're automatically backing up the drives to a local server or NAS box–what happens if a fire, flood, or other disaster hits your location, and you lose both the original and the backup?
Sign up for a consumer-oriented online-backup service such as Backblaze, Carbonite,or CrashPlan, and you need never worry about losing access to sensitive data again. As with the cloud-storage services I've discussed, you don't need to dedicate any of your own resources–other than cash–or know how to set up an automated backup system. All you need to do is have each employee download and install an app.
Backblaze charges $50 per computer per year under its consumer and business plans; the latter plan (for businesses with five computers or more) adds central billing and reporting from a master account. Carbonite offers an unlimited amount of storage for one computer for $59 per year, but the company also has a small-business plan that provides 250GB of backup storage for an unlimited number of computers for $229 per year.
CrashPlan offers a free, ad-supported backup service for an unlimited number of computers, but it's not really intended for businesses, and it doesn't place your backups on CrashPlan's servers. If you want to back up to an offsite location via the free service, you make an arrangement with a friend or relative to back your files up to their computer (and they would probably expect you to reciprocate and host their backups). In contrast, their business plan costs $270 per year, but it will back up an unlimited amount of storage from as many as three computers. One of CrashPlan's unique features is its support for Mac OS, Linux, and even Solaris, in addition to Windows.
Whichever online backup route you choose, downloading and installing the relevant client software is a dead-simple process for you and your employees, and you'll gain instant peace of mind knowing that your invaluable data is protected from loss.