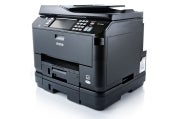 I know I'm going to hear about it from the laser printer's many fans, but here goes: If you have $400 to spend on a new color printer for your small office of five to ten people, you should buy an inkjet model. Business inkjets available now beat similarly priced color lasers, feature for feature and speed for speed–and they're especially superior in consumables costs.
High-end, business-oriented inkjets have evolved from a niche to a trend. HP has produced its Officejet line of inkjet models for years, the latest iterations being the $300 HP Officejet Pro 8600 Plus e-All-in-One Printer multifunction and the $150 HP OfficeJet Pro 8100 ePrinter single-function printer. Recently, other vendors have joined HP and made business inkjets a real category: Epson launched its WorkForce Pro line (the $150 Epson WorkForce Pro WP-4020 Color Inkjet Wireless Printer is one example), and Lexmark introduced its OfficeEdge line (including the $399 Lexmark OfficeEdge Pro5500 MFP). All of these models defy inkjet stereotypes with their fast print times, great output quality, and very low costs per page.
Meanwhile, mainstream color laser vendors have been racing to the bottom, selling products with lower and lower prices. You can get a color laser for a few hundred bucks now–but it'll be very slow, with minimal features, mediocre image quality, and exorbitantly priced toner. The $230 Dell 1250c single-function color laser printer, for instance, accepts high-yield toner cartridges that cost 3.5 cents per page for black and 5 cents per color, per page. A four-color page would cost 18.5 cents. These costs are no better than the current average for a color inkjet. The costs for the 1250c's standard-size toner are even higher.
Your Better Bet for $400
For this face-off, I compared the $400 Epson WorkForce Pro WP-4540 All-in-One Printer, a color inkjet MFP, with the $400 Brother MFC-9125CN color LED (a laser relative) MFP. To show how the comparison applies to more than one product, I also included data on two other color laser MFPs: the $350 HP LaserJet Pro 100 Color MFP M175nw and the LED-based, $420 Dell 1355cnw.
Let's start with speed. The WorkForce Pro WP-4540 color inkjet MFP was very fast with plain paper at default settings in our tests, producing text at 12.4 pages per minute on the PC platform. Printing the same documents, the MFC-9125CN color LED MFP trailed slightly with a rate of 12.2 ppm. The 1355cnw color LED MFP managed a rate of 11.1 ppm, and the LaserJet Pro 100 Color MFP M175nw had a rate of just 10.8 ppm. (Note: Our test times for the Mac platform were nearly identical.)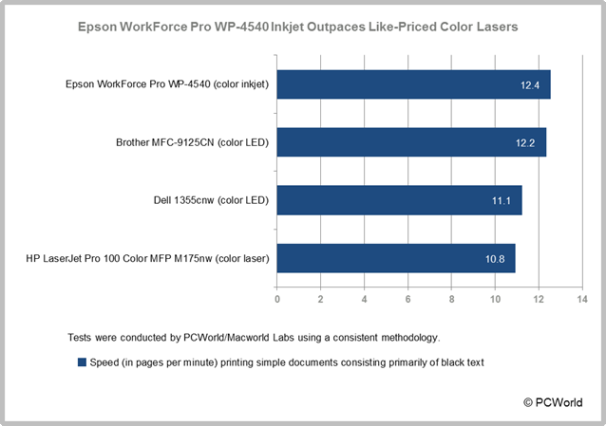 The Epson WorkForce Pro WP-4540 and its inkjet cohort also have more and better features than their color laser competition. Consider the most important feature set for any printer or MFP: paper handling. The Epson inkjet and the Brother, Dell, and HP color LED/laser products all have letter/A4-size scanner platens and automatic document feeders for handling multipage documents. In all other respects, however, the Epson inkjet offers more than the Brother, Dell, and HP color laser products do.
$400 Inkjet Beats $400 Color Lasers in Paper Handling
| PRINTER FEATURES | Epson WorkForce Pro WP-4540 (color inkjet) | Brother MFC-9125CN (color LED) | Dell 1355cnw (color LED) | HP LaserJet Pro 100 Color MFP M175nw (color laser) |
| --- | --- | --- | --- | --- |
| Number of standard input trays | Three | One | Two | One |
| Total standard input capacity | 580 sheets | 250 sheets | 160 sheets | 150 sheets |
| Duplex (two-sided) printing | Yes | No | No | No |
| Duplex (two-sided) scanning | Yes | No | No | No |
| Automatic document feeder | Yes | Yes | Yes | Yes |
| Letter/A4-size scanner platen | Yes | Yes | Yes | Yes |
If the Epson's paper-handling features aren't good enough for you, note that two other color inkjets, the HP Officejet Pro 8600 Plus e-All-in-One Printer and the Lexmark OfficeEdge Pro5500, have legal-size scanner platens. No color laser we've tested in this price range fully supports legal-size documents.
The inkjet team wins easily in a comparison of the cost of consumables, as well. The Epson WorkForce Pro WP-4540 costs just 1.6 cents per page for black and a total of 7.6 cents for each page with all four colors. In contrast, the Brother MFC-9125CN costs 3.4 cents for black-text pages and 18.4 cents for pages with all four colors. The Dell 1355cnw and HP LaserJet Pro 100 Color MFP M175nw are even pricier.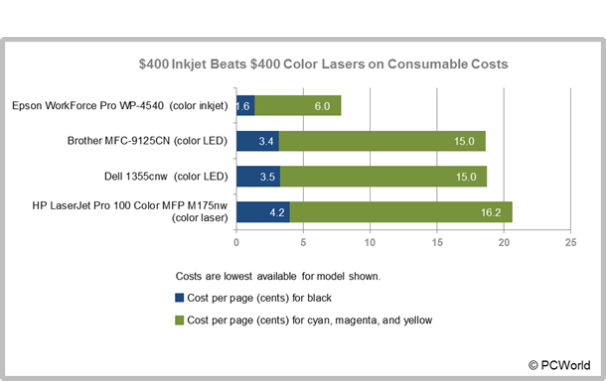 Color Lasers Stumble on Image Quality
If you're looking at a color laser, I assume it's because you want more than just the perfectly crisp text that a monochrome laser printer would provide. You must also want to be able to print your logo in color, or add pie charts or color blocks to a brochure, perhaps even a photo. For any of these additional printing needs, a business inkjet such as the Epson WorkForce Pro WP-4540 is, yet again, the better choice compared with the Brother MFC-9125CN or another like-priced laser product.
In our print-quality judging, using Hammermill Laser Print as our plain paper, the Epson inkjet's text appeared black, smooth, and precise, even with closely spaced fonts. Color images looked slightly dull and grainy on plain paper, but still realistic–and on Epson's own photo paper, the same images looked nearly flawless.
We had no complaints about the Brother MFC-9125CN's text quality, but we found the color quality of prints from this laser printer disappointing. Colors tended to look yellowish and grainy, whether the object was a simple color block or a piece of fruit. Flesh tones appeared especially unnatural. Areas of shadow tended to print quite dark, giving images a murky look.
Print quality is subjective. It's entirely possible that you'll find a color laser's image quality acceptable for your purposes. Also, lasers still don't care much about the paper, whereas lower-quality papers will affect even a business inkjet's print quality. What's clear, though, from our tests of the Epson and Brother products, and other inkjet and laser printers in this price range, is that the color lasers are no better than the inkjets on print quality–and in some cases, they are noticeably worse.
Reliability Is the One Unknown
The only wild card in this comparison is reliability over time. I've heard lots of stories about laser printers that sit in a room and churn out pages for years on end. I've also heard complaints about inkjets whose printheads clog, or whose input trays stop feeding. Beyond anecdotes, though, I don't have any hard evidence about whether a $400 laser will last longer than a $400 inkjet. Nevertheless, keep in mind that an inkjet used regularly should not suffer any printhead-clogging issues; and while high-end, corporate laser printers may be built like tanks, lower-end color lasers are built more like economy sedans.
Laser and LED printers remain the business standard, and for good reason: The midrange and high-end models are built to be fast, reliable, and economical. When the price of a laser printer dips below $500, however, they generally print more slowly, offer fewer features, and use pricey toner. In the same price range, high-end inkjets can meet or exceed the performance of lasers, particularly when it comes to cost of consumables. That's why, if you're faced with the choice of a $400 inkjet printer versus a $400 color laser/LED printer, the inkjet is the better deal.