At a Glance
Expert's Rating
Our Verdict
This stylish, compact tablet has a bonded, high-resolution display and solid performance plus a microSD card slot, but it is expensive compared with the competition.
Long before the Toshiba Excite 7.7 got its name, its prospects were cause for excitement. The tablet's beefy Nvidia Tegra 3-powered specs, its slim and lightweight design, its Android 4.02 Ice Cream Sandwich operating system, and its high-resolution AMOLED display all made it a front-runner challenger on paper.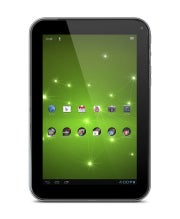 Now that it's here, I can report that this model fully lives up to its potential. The only disappointment lies with its steep price: $500 for the 16GB version–the same as the larger-screen third-generation iPad costs–and $580 for the 32GB model.
Next to the iPad's pricing, the Toshiba Excite 7.7 (previously seen at Mobile World Congress as the Toshiba AT270) feels astronomically expensive. That said, it comes in priced just 11 percent higher than the next closest competitor, the Verizon Samsung Galaxy Tab 7.7, which is $450 with a two-year contract. Granted, the Verizon model handles 4G LTE wireless communications, but that tablet is also stuck on last year's Android 3.x Honeycomb operating system. And its dual-core CPU performance is notably slower than that of the Tegra 3-based Excite 7.7.
At least the design of the Excite 7.7 matches its premium price. Aesthetically, it pleases the eye, and it's in keeping with the design of the 10.1-inch and 13.0-inch models in the Excite lineup, sporting a bronze-colored, textured aluminum back with matching plastic edges and well-defined buttons for the volume rocker, power, and rotation-lock slider.
The design is deceptive: Though the Excite 7.7 lacks the contour of the Samsung Galaxy Tab 7.7, the two models are of identical depth, 0.31 inch. The Excite 7.7 is slightly larger than the Tab, standing 8.1 inches tall to the Tab's 7.7 inches; and at 12.3 ounces (or 0.77 pound), it's a bit heavier than the Tab, by 3.2 ounces (or 0.2 pound). Interestingly, the Toshiba tablet feels lighter in the hand, probably due to the balance of the components inside.
The weight of the Excite 7.7 is actually one of the more enticing features, as it indicates that LCD-based tablets are starting to approach a weight that's conducive for one-handed operation. The Excite 7.7 is not as featherlight as current E Ink-based e-readers are (some e-readers are half the Excite's weight), but it is notably light when held one-handed–a critical distinction, and advantage, for a smaller tablet like this. After all, many users like to hold their slate one-handed when they're reading, and the Excite 7.7's high-resolution display makes it ideal for that activity.
High-Res Display
The high-resolution AMOLED display is another major cause for excitement here. Android tablets have been painfully slow to get on the bandwagon of higher-pixel-density displays, and this model is one of the few to do so. At 1280 by 800 pixels, the display has 196 pixels per inch, not as dense as what the current 9.7-inch iPad has, but far better than what the 1024-by-600 Samsung Galaxy Tab 2 7.0 delivers. In my hands-on trials, text looked lovely in ebooks and Web pages, smooth and solidly rendered–and a welcome contrast to the pixelation I've seen on the lower-res competition. The 16:10-aspect-ratio display uses Corning Gorilla Glass and supports ten-finger multitouch, and it was highly responsive when I tried it.
Toshiba says the display is comparable to Samsung's Super AMOLED Plus technology, and I'd have to agree after a side-by-side comparison. Colors looked identical, with similarly high saturation but no oversaturation. The Samsung display was slightly better at handling blacks and whites; Toshiba's screen crushed the blacks and washed out the brightest whites in our grayscale-image test. Beyond that, though, the Toshiba tablet simply excelled at images, producing eye-popping color and reasonably good skin tones. On one of our standard test images, the Excite 7.7 provided one of the better representations we've seen of the skin tones and clothing; it lacked the moiré pattern evident on the Samsung model, though whether this result is due to the difference in operating systems (with the Samsung tablet still on Android 3.x) or something else is unclear. The Excite 7.7 also rendered images sharply, although–as with the other current Android tablets we've seen–images in the Gallery app had fuzzy thumbnails, and needed a moment to render fully when opened.
The last piece of big news about the Excite 7.7 is its Nvidia Tegra 3 processor. Tegra 3 is terrific for gaming; on our GL Benchmark tests, the Excite 7.7 performed in line with other Tegra 3 tablets. Games looked great on the display as well.
Additional Features
The Excite 7.7 has a MicroSD card slot (which supports up to MicroSDXC cards) and a Micro-USB On-The-Go port on the bottom, along with a conveniently placed (for landscape use) headphone jack. It also has a 2-megapixel front camera and a 5-megapixel rear-facing camera with flash, plus a proprietary docking connector for charging. The connector is larger and bulkier than most, as on previous Toshiba tablets; however, the unit appeared to charge more quickly in my hands-on tests (formal results and full battery life tests still to come).
Toshiba hasn't customized Android 4.0 much on the Excite 7.7, but the company has preinstalled some handy widget icons on the home screen; these widgets group related apps together for easy access. The company also tosses in a slew of useful apps and a handful of games to get you started.
The Toshiba Excite 7.7's zippy performance, light weight, and terrific display make for great usability. Now, if only the price of admission to this particular tablet ride weren't so high.
Stay tuned for PCWorld's fully rated Excite 7.7 review, with our updated tablet testing suite.
Note: When you purchase something after clicking links in our articles, we may earn a small commission. Read our affiliate link policy for more details.