At a Glance
Expert's Rating
Pros
Moderately priced for the power
Runs games smoothly at high resolutions
Our Verdict
A great system for game fans on the go, the Series 7 Gamer won't completely break the bank.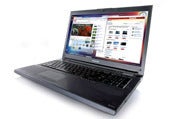 For many PC gamers, owning a powerful laptop that will let them have their fun anywhere is preferable to staying rooted at home with an oversize desktop rig. The Series 7 Gamer is Samsung's answer–but how does it stack up against other high-performance portables?
The Series 7 Gamer (priced at $1899 as of June 6, 2012) comes equipped with an Intel Core i7-3610QM processor at a stock speed of 2.3GHz, a generous 16GB of RAM, 1.5TB of hard-disk space, a 2-megapixel camera, and a Blu-ray optical drive.
The Gamer doesn't skimp on connectivity options and ports. It's packed with two USB 3.0 ports, two USB 2.0 ports, HDMI and VGA out, DisplayPort, a multiformat card reader, headphone and microphone jacks, and an RJ45 gigabit ethernet port. As for wireless options, it has Wi-Fi 802.11a/b/g/n, as well as Bluetooth 4.0.
In addition, Samsung spared no expense with the graphics hardware, inserting Nvidia's top-of-the-line GeForce GTX 675M graphics card to give this mobile machine real desktop power. On our strenuous graphics tests, which run at ultrahigh settings and 1920 by 1080 resolution, the Series 7 Gamer produced respectable results, running Dirt 3 at an average of 42.2 frames per second and Crysis 2 at an average of 27.7 fps. At those frame rates, the games were very playable and still looked their best.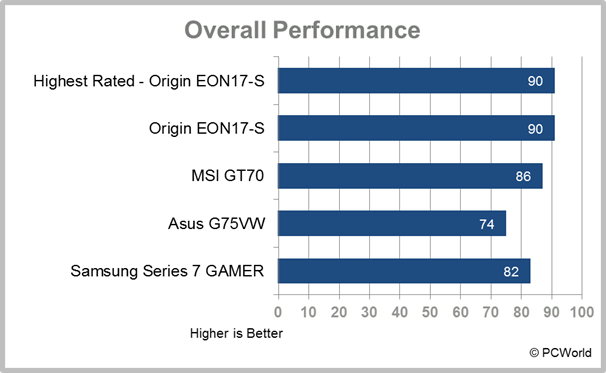 All of this capable hardware helped the Series 7 Gamer achieve a score of 123 on our WorldBench 7 benchmark suite, which means that it was 23 percent faster than our baseline system. Although that is a very good score, it has been a strong month for desktop-replacement laptops. The overclocked Origin EON17-S, for instance, posted a whopping 200, ranking as the highest-scoring laptop. Of course, you have to pay about $1500 more for such stunning mobile performance; the Gamer manages to be powerful while staying at a reasonable price.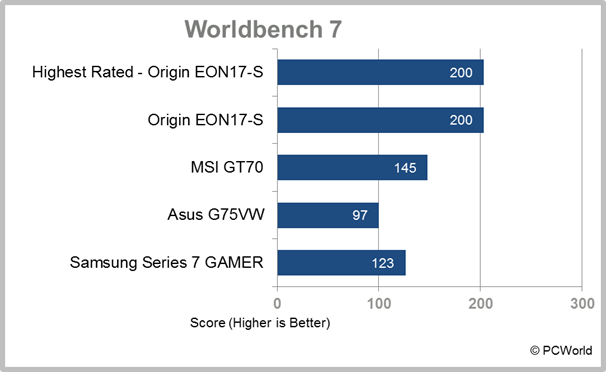 One cool feature in the Series 7 Gamer is a dial that allows you to choose a power setting on the fly. The laptop has a total of four modes: Gaming, Balanced, Library, and Eco. The Gaming mode is an all-out power fest, battery life be damned, turbocharging the processor and fans as well as optimizing the audio and video for games. The moment you turn the laptop to Gaming mode, a graphic plays on screen, the background changes, the cursor becomes a bull's-eye, the keyboard glows a bright blue, and the turbo light flashes on. The Balanced mode is what a default setting may look like, with nothing running to an exorbitant degree. The Library mode keeps the system quiet, automatically muting the sound and turning the fans off. Finally, Eco mode saves power for maximum battery life, adjusting the processor speed and screen accordingly. Although most laptops offer power settings, it is a nice option to have a physical dial for quickly switching them out.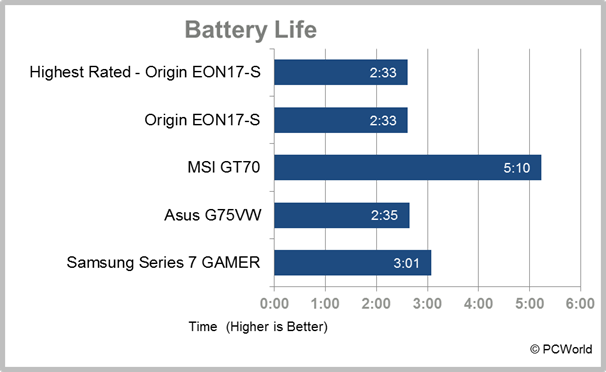 When you're gaming on the go, you might be concerned about how much time you can squeeze out of the Series 7 Gamer before the battery dies out. In our tests it lasted 3 hours, about half an hour longer than other recent high-power laptops. Although that is a reasonable time for a desktop replacement, you will most likely need to keep the power brick close by, and you shouldn't be afraid to shut the machine down; the startup time is a mere 24 seconds. If you want to get more time out of your laptop, consider the MSI GT70, which lasted over 2 hours longer in our tests and sacrifices just a little graphics power.
Of course, a key aspect of mobility is the size and weight of a laptop. Just like other high-performing laptops on the market, this model is fairly heavy, weighing 11.2 pounds including the large AC power brick. It is also large, measuring 16.1 inches wide by 11.2 inches deep by 2.0 inches thick. The size allows for a nice high-definition screen with a resolution of 1920 by 1080, perfect for games and movies. Be sure to find a good, supportive carrying bag if you wish to take gaming power wherever you go.
Despite its large size, the Series 7 Gamer manages to stay sleek without sacrificing any physical features, such as a number pad. The smooth touchpad is roomy, and more important, very responsive. The keyboard is backlit, and when the machine is in Gamer mode, the WASD keys–the keys that PC gamers most frequently use–are outlined and red, just to accentuate their importance. Touch-sensitive volume, mute, Wi-Fi, and brightness controls sit at the top of the keyboard.
Overall the Samsung Series 7 Gamer is a great choice for anyone who needs the best hardware on the go. Though you can find other portable systems that top it in benchmarks, this model manages to stay in an affordable price range. The power and style of the Series 7 Gamer will impress game fans and casual computer users alike. If you are looking to invest in a reasonably priced gaming laptop, look no further.