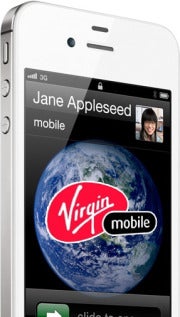 Virgin Mobile begins selling the iPhone without a contract starting June 29 with service plans starting at $30 a month. The Sprint-owned prepaid, no-contract phone service will charge $549 for a basic model, while service will start at $30 monthly.
Apple's iPhone was available only on contract-based plans from carriers, or unlocked straight from Apple for $649 for the 16GB model. Virgin Mobile is the second carrier to introduce iPhones on prepaid services after Cricket announced it would start selling the phone from June 22 for $400 with a $55 per month service plan.
Tip: If you have an iPhone 4 kicking about, hoping you could hook it to Virgin Mobile's plans, just make sure it's the CDMA version, and not AT&T's.
Virgin will offer the iPhone 4 and 4S with its Beyond Talk unlimited data and messaging plans which cost $35 per month — or $30 if you pay by automatic monthly payments with a credit card, debit card or PayPal account. The 16GB iPhone 4S will be $649 with this plan, or $549 for the 8GB iPhone 4.
Note that data usage is unlimited up to of 2.5GB transfer, after which you are throttled. If you want to use your iPhone as a mobile hotspot with Virgin, that'll be an extra $15, for which you get 3.5GB of full speed data.
The iPhone from Virgin Mobile will be available online www.virginmobileusa.com, RadioShack, and Best Buy. While Cricket's iPhones are priced less than on Virgin Mobile (where the iPhone 4S costs as much as it would straight from Apple), the price plans are more expensive on Cricket.
Follow Daniel Ionescu and Today @ PCWorld on Twitter