Business still revolves around the Big Three software applications: word processing, spreadsheets, and presentations. And Microsoft still charges an arm and a leg for Office licenses. What's a cash-strapped small shop to do? There are, of course, a number of freebie alternatives to Microsoft Office, most notably OpenOffice.org and LibreOffice. However, OpenOffice faces an uncertain future, and LibreOffice is bogged down by a clumsy, outdated interface and iffy file compatibility. Allow me to suggest a lesser-known alternative: Kingsoft Office Suite 2012. Kingsoft offers Free, Standard (available here), and Professional editions, the latter two priced at $50 and $70, respectively.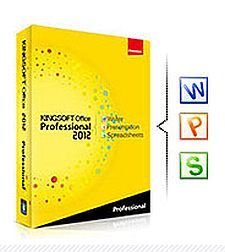 Kingsoft's suite consists of three modules: the aptly named Writer, Spreadsheets, and Presentation. They're fully file-compatible with Word, Excel, and PowerPoint; I had no trouble loading my existing documents or saving new ones in Microsoft formats.
On the feature front, it matches up pretty well–though there's one big ace up the Kingsoft suite's sleeve: a tabbed view for documents, something Microsoft Office still lacks. Each open document gets its own tab, just like different Web sites get tabs in your browser. That makes switching between them much easier than in Microsoft Office.
The only question is, which version of the suite should you get? My advice: Start with the free one. Its interface is immediately familiar to anyone fluent in Microsoft Office 2003, and the only significant feature it lacks is macro support. The free version also lacks the ability to save documents in Office 2007/2010 formats, though it can open them.
That said, if your employees are already accustomed to Microsoft's Ribbon interface, consider investing in Kingsoft Standard or Professional. Both give you a choice between the aforementioned Office 2003-style interface or one that looks straight out of Office 2010. In other words, it's a Ribbon knockoff, and a damn good one. (You can actually switch back and forth between the two, a nice touch.)
If you want to learn more, Kingsoft has a page devoted to the differences between Office Free, Standard, and Professional.
For the record, I've been using both the Free and Professional versions on different machines, and I've found both to be excellent. But I prefer Pro, mostly because I like the Ribbon-style interface.
And at $70, Kingsoft Office Suite Professional costs considerably less than Microsoft Office Professional 2010, which starts at $350. Granted, the latter also includes Outlook, Publisher, and Access, so it's not quite an apples-to-apples comparison.
However, if you don't need those tools, but do need the Big Three, I definitely think Kingsoft Office is worth a look.
–Rick Broida