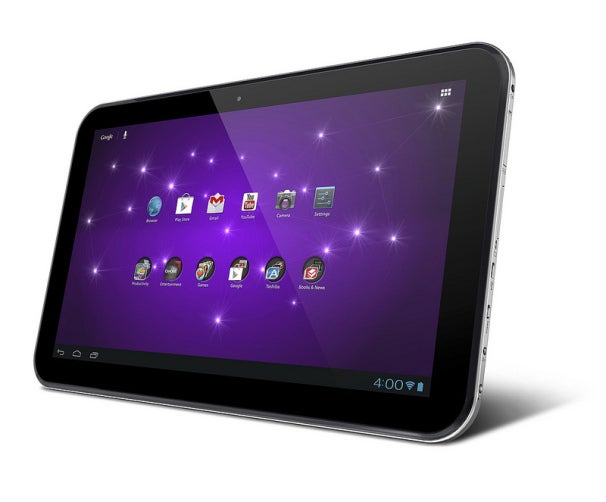 When is a tablet no longer a tablet? One might ask that question when looking at the Toshiba Excite 13, even though it is clearly a tablet given its lack of an integrated keyboard. The largest of any tablet announced or shipping, this slate is all about its generous display. But does a 13-inch display make a tablet too unwieldy?
At CES 2012, when news of Toshiba's 13.3-inch tablet prototype hit, I heard many snickers from colleagues who said that it was too big to be useful as a tablet. Make no mistake, it is indeed big: It measures 13.5 by 8.3 by 0.4 inches, and weighs 2.2 pounds. It is the antithesis of the svelte, smaller Toshiba Excite 7.7. But although it is noticeably heavier than most tablets, I was pleasantly surprised to see that the Excite 13 felt balanced in the hand. Using it is mostly a two-handed, landscape affair, but it still works well.
Undeterred by the Excite 13's size, I dove right in with this tablet and began using it for a variety of tasks: viewing images, browsing the Web, playing games, and writing documents. The big screen served me well when I had a surface to rest the tablet on, but it felt a bit awkward in my lap. For the most part, the large screen captivated me, drawing me into the content and navigation in a way that other tablets have not. My touch typing was more accurate on the soft Android keyboard, too. I found myself caught up in using the Excite 13, to the point that I had to remind myself to switch my attention away from the tablet and back to the tasks at hand–such as writing this article.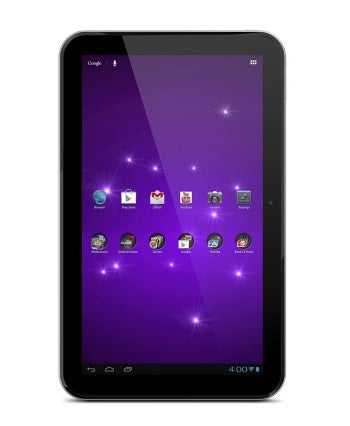 In the end, the Excite 13 proved to me that a 13.3-inch tablet can be quite compelling for many uses. Admittedly, using one involves sacrificing a bit of privacy: The big screen is large enough that your neighbor on the airplane or at the café might clearly see what you're reading, for example.
This clearly isn't a tuck-and-go tablet, either. But the Excite 13 can pair well with another flat device, such as a laptop, stashed in your briefcase or backpack; you can use the tablet as a second screen, an arrangement that's especially convenient if you orient the tablet vertically for viewing documents or Web pages, since you'll get a lot of information on screen in a single go. The tablet stands wider than my two-year-old, 13.3-inch Toshiba R700 notebook (because the tablet's display has a broader bezel to accommodate the electronics and ports), but not so much so that it's obtrusive.
One drawback of this 13.3-inch tablet lies in how Google's Android 4.0 Ice Cream Sandwich operating system handles on such a large display. Apps like Google's Play Music and Amazon's MP3 Cloud Player don't scale well to take advantage of the screen real estate. Vector Unit's Riptide GP looked good, but other games were a bit more fuzzy than I expected; presumably this happened because the games' assets don't match the 1600-by-900-pixel resolution of the tablet. Still other apps, such as 8Tracks, may be intended to scale between small and large screens, but on a display this large, images seemed grainy and pixelated.
Unfortunately, these weaknesses are tied to how Android and developers handle large screens in general. This means you'll get inconsistent results: When an app works well, it works very well, and when it doesn't, you're left wondering why Google let a free Scrabble game for phones be recognized as a tablet app.
When you're not using the Excite 13 on its own or as a complement to your laptop's screen, you might want to use it as a second screen in your living room. Unfortunately, the tablet lacks an IR port for use with a remote control app; an IR port is the one thing that would have made the Excite 13 truly appropriate for use on your couch.
While the big display comes in handy for working in productivity apps or viewing movies, it is especially immersive for playing games. Carrying a quad-core Nvidia Tegra 3 processor inside, the Excite 13 is perfect for gaming; on our GL Benchmark tests, the Excite 13 scored right in line with what we've come to expect from Tegra 3-based tablets.
In the end, though, it's price, not size, that constrains the Excite 13 the most. Though its size alone means that it isn't the tablet for everyone, its price will be the ultimate deterrent to adoption. The 32GB model costs $650, while the 64GB version costs $750. For those prices, you can buy a reasonably nice ultraportable laptop, or perhaps come close to the price of the slim Ultrabook you've had your eye on. No, those products aren't slates, but you'd potentially get more all-around use out of a laptop than you would out of a large tablet.
In spite of these weaknesses, Toshiba deserves credit for taking a chance on the 13.3-inch tablet design. For entertainment, as well as for document creation and consumption, the Excite 13 is like no other tablet available today. But the price of admission is steep.