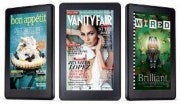 Amazon had better hope that its upcoming second-generation Kindle Fire is a real crowd-pleaser, because interest it the original Fire appears to be fading fast.
The Yankee Group today released a new report, "2012 US Tablet Landscape: An All-Too-Familiar Story," that examines the current state of the U.S. market for tablet devices. As the title suggests, the report's findings aren't too surprising, specifically the fact that Apple's iPad continues to dominate the tablet market with 51 percent of all tablets owned in the U.S.
But the report's findings on the Kindle Fire should give Amazon pause. The online retailer's 7-inch color slate, a holiday hit when it debuted last fall, has "cooled with consumers," the Yankee Group says.
Consumers who wanted a Kindle Fire now have one, but demand has dropped precipitously. In fact, just 6 percent of people surveyed intend to buy a Fire, down from 11 percent in 2011.
The Yankee Group's findings mirror recent reports that suggest the Kindle Fire isn't the stunning success it first appeared to be.
A recent ChangeWave Research poll of 2,900 U.S. consumers found that 41 percent of Kindle Fire users said they were "very satisfied" with the tablet–a 15-percent decline since ChangeWave's February 2012 survey.
By comparison, 81 percent of Apple iPad owners said they were "very satisfied" with their tablets, ChangeWave Research found.
Meanwhile, market research firm IDC reported last month that Amazon's share of tablet shipments fell dramatically to just over 4 percent in the first quarter of 2012, down from 16.8 percent in the fourth quarter of 2011.
These findings don't sound the death knell for the Kindle Fire, of course. But sagging consumer interest and customer satisfaction scores don't bode well for Amazon's tablet.
Kindle Fire 2, where are you?
Contact Jeff Bertolucci at Today@PCWorld, Twitter (@jbertolucci) or jbertolucci.blogspot.com.