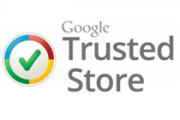 Google launched a Trusted Stores program on Thursday that will provide online shoppers with customer satisfaction scores for participating merchants, according to a company blog post.
Google will serve a Trusted Store badge on those e-commerce sites that ship orders reliably and offer "excellent" customer service, the company said. When a user hovers over the badge on the website, he or she will see Google's metrics on the merchant's performance.
The program will let users know "they're shopping with a reputable retailer and they can feel confident making an informed purchase," the company said.
Sales of illegal items, pornography and other types of products, including "unsubstantiated cures, remedies, or other products marketed as quick health fixes," are barred from the program.
The company will generate metrics using a combination of data that merchants share about their shipments and user feedback gathered when and if customers seek Google's help with an order from a Trusted Stores merchant. Before a company can participate in the program, Google will monitor its shipping and customer service for 28 days.
In addition to providing the badge, Google will mediate between the Trusted Stores and their customers. Users buying from Trusted Stores can opt to get up to $1,000 in purchase protection from the Internet giant for eligible transactions. If consumers have a problem with an order, Google says it "will work with the merchant and customer to address the issue."
Google began testing the program last fall and says it now includes 50 online merchants, including O.co, Wayfair and Timbuk2. The program has handled more than 10 million orders, according to Google.
Google is advertising that participation in the program brings merchants more business. For example, it says Timbuk2, a San Francisco company that sells trendy backpacks and messenger bags, improved conversion rates by 2.9 percent and saw average order size increase slightly.
Last week, Google announced that by the end of the year, its product search results, listed under "Shopping," will be limited to paid advertising. It said this would lead to "better shopping results for users" and "higher quality traffic for merchants."
The company did not immediately respond to a request for comment.
Cameron Scott covers search, web services and privacy for The IDG News Service. Follow Cameron on Twitter at CScott_IDG.