"One of my coworkers' wives was complaining about how cold her hands were when she got to work, and how she couldn't even control her mouse," says James Hsu, from his company's small booth at the Computex show.
Three months later, his firm produced its first "iWarm," a computer mouse with a rechargeable, removable hand warmer attached, and now he is pitching it on the show floor. Hsu cooly runs through the specs — dual temperature settings, a 1700 milliamp-hour battery, color schemes including "lemon" and "rock" — then pauses and shrugs when asked about the name.
"We thought if we put an 'i' in the beginning, it would be better."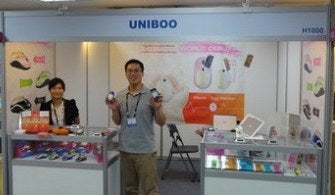 His firm, Uniboo, is also displaying elaborate plastic cases for mobiles and the "soap phone," an iPhone-shaped bar of soap. The company has about 20 employees, and he says all of them are free to pitch ideas at any time. If one sounds promising then it gets a development budget.
This is Taiwan's version of the Silicon Valley ethos, where small firms make bets on quirky new devices, then use their deep ties to Chinese manufacturing to quickly roll out prototypes. Once a year, the companies gather to pitch their creations in awkward English to foreigner buyers on the show floor at Computex, the massive electronics exhibition that runs through Saturday in Taipei, Taiwan.
Cepa Electronics, another Taiwanese manufacturer, doesn't have a real name for its new pen phone, which it calls the BH202, or even a working prototype to show. But Project Manager Richard Tung says an order of 50,000 units per year will get you exclusive distribution rights in your country.
The pen has a rubber tip for use with touch-based tablets and mobiles, as well as a built-in speaker and microphone, so it can be used as a headset, and a plug for using it with headphones. Tung, who shrugs off any similarity to a pen developed by manufacturer Asus for use with its Padfone device, says mass production will begin from July, about six months after it was first conceived.
"My boss knows a guy that does injected plastic, so it was easy to build," he says, adding that his firm's factory in southern China is surrounded by others that make chips, custom software, cases, and anything else that's needed.
"It's one-stop-shopping in China," he says.
Tung said Cepa has one order already, for 5000 units, from a company that will sell iPad knockoffs in Malaysia and wanted to include the pen to entice consumers. Like most of the small companies on the show floor, Cepa has no qualms about selling its products OEM (original equipment manufacturer), to be rebranded by a consumer-facing firm, because marketing is intimidating and expensive.
With marketing and user testing largely considered pricey luxuries, the overarching strategy is to find a successful mainstream trend and come up with a gadget that seems like it might catch on. The larger, more established Taiwanese manufacturers use a similar build-it-and-see approach for their products. This year's Computex features an odd motley of PC-tablet hybrids, including some with two-sided or detachable displays, from companies like Asustek Computer, which popularized the netbook.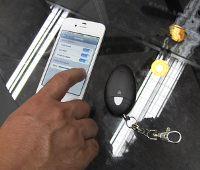 There are successes. Ardi, a company with 15 employees, including some in an office in Taipei and three engineers that work from Dallas, Texas, began developing its proximity sensors about five years ago. Ardi's products include various iterations on the concept of two devices that beep when moved too far apart, which the company literature notes is useful for keeping track of important items like keys, dogs and children.
Ardi has expanded the idea into a line of colorful keychains for parents to make sure their kids don't wander off and a small theft alarm that was picked up by a bicycle maker. It is gearing up to launch the "iReminder," a Bluetooth keychain that syncs with an iPhone and beeps when the two get too far apart. The "too far" range can be set between roughly 0.5 and 10 meters, and a prototype on display works as advertised.
"We have a patent to avoid human body interference, which is a big problem for devices like this," says Chino Chen, who mans the company's booth, debugging software for the new product on his laptop between visitors.
The firm is looking for orders of at least 1000 units, far below what its more well-known peers would require.
"We are smaller, so we just tackle smaller projects," says Chen.