At a Glance
Expert's Rating
Pros
Automatically sends tweets
Cons
Could be used to spam
Search suggestions not always good
Our Verdict
Free (but ad-supported) service iTweetLive helps you communicate more effectively via Twitter.
Twitter has become a marketing and communications tool for businesses, so it's no surprise that tools that help you get the most out of the service have exploded. ITweetLive is one of the latest entrants to the marketplace. This free, cloud-based service is aimed at helping businesses of all sizes use Twitter more effectively by engaging with its users.
Specifically, it is designed to help you talk to folks on Twitter, in large quantities but with a personal feel. But before you can communicate with people, you need to find those people. iTweetLive's search tools, which include advanced options and advice, can help.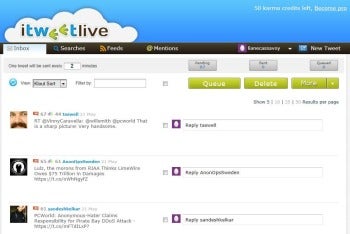 ITweetLive suggests phrases to add or remove from your search in order to get better results. Results were mixed when I tried. Searching for "PCWorld" and "Twitter," iTweetLive suggested I add "Parking Spot for Twitter Updates," which was a phrase that appeared in a tweet that had been retweeted only once. While this refinement did direct me to a specific Twitter user, the results were a bit too specific.
I had better luck when iTweetLive recommended slightly more general search terms. And I like how iTweetLive's searches continue to run, allowing you to see a constantly updated list of results.
iTweetLive makes getting in touch with users with whom you'd like to communicate easy.
The Web-based interface displays a list of the folks who have shown up in your search results, and you can sort the list by various criteria, including their Klout score. iTweetLive automatically displays a response field, and lets you fill a queue with messages to be sent out when they're ready.
iTweetLive won't send all of your tweets at once, though; it sends out tweets at an interval that you determine, but no more frequently than one tweet every two minutes.
Even with that built-in delay, it's easy to see how this service could be used to send too many messages. But the company insists it's trying to help users send better, more direct communications, not mass-mailed messages that go to many folks at once. iTweetLive says it discourages bulk tweeting, noting that its users will get much better results by using pinpointed searches and customized messages.
iTweetLive has a lot to offer if you're a small business user who is looking to communicate with customers or industry contacts via Twitter. But the free version is ad-supported, which means that for every 50 tweets you send, a tweet promoting the service will be sent from your account. Paid accounts, which start at $10 for 500 credits, let you opt out of ads.
Note: The Download button takes you to the vendor's site, where you can use this cloud-based software.
— Liane Cassavoy