At a Glance
Expert's Rating
Pros
Solid contruction
Great keyboard
Cons
Middle-of-the-pack performer
Software overload
Our Verdict
This is an updated version of the ThinkPad that IT types and business users love. Still, modernists may wish for a more svelte look.
Fans of the classic ThinkPad won't be disappointed with the X230. It's the X series ultraportable laptop you love with the same rugged styling and construction, eraserhead cursor control, and comfortable keyboard–with a few innovations. The X230 will never be an avatar for thin and sexy, however. If that's what you seek, look elsewhere (toward Lenovo's U-series, for example).
The great feel of Lenovo's keyboards has always been a leading cause of ThinkPad addiction. Hence, every time the company announces that it has changed the keyboard–as it did recently–it's a cause for concern. But any fears that the new breathable, backlit, chiclet-style design may represent a step backward for the keyboard are unfounded. Despite having a 1mm-shorter throw than that of older models, the X230's keyboard offers the same rhythm-inducing feel and aural feedback.
The touchpad and TrackPoint cursor control also retain the feel that ThinkPad users are accustomed to. For the nonacclimated, the rough-textured touchpad with buttons above it will feel odd at first. Lenovo also provides a fingerprint reader for biometric security and logon.
The $1249 model that Lenovo sent us for review is a midrange configuration featuring a Core i5-3320M Ivy Bridge CPU, 4GB of system memory, and a 7200-rpm, 320GB hard drive. Other configurations range from a $1099 model with a Core i3-2370M processor and smaller hard drive to a top-of-the-line $2600 unit with a Core i7-3520M CPU, 16GB of memory, and a 256GB solid-state drive.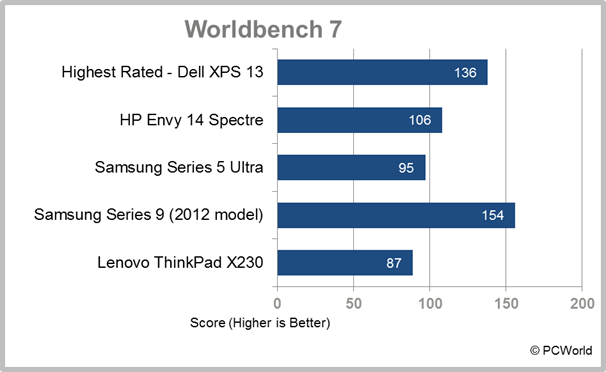 The X230's ports are a well-thought-out mix of legacy and state-of-the-art. You get a VGA output, a mini DisplayPort, two USB 3.0 ports on the left side of the unit, one USB 2.0 port (always on for charging) on the front right, as well as gigabit ethernet and Kensington lock ports. The array of ThinkPad switches and buttons includes Wi-Fi (802.11a/b/g/n) on/off on the left side; a volume rocker, and speaker and microphone mutes at the top of the keyboard deck; and the now-familiar ThinkVantage button for launching Lenovo Recovery.
When it comes to multimedia, the X230 is merely average: 1080p video played as smooth as silk, but watching it on a 12.5-inch 1366-by-768 screen–even one as bright and crisp as the X230's–will never be a theatrical experience. For its size, however, the display is very good. Sound through the speakers lacks bass and is heavy in midrange, which works quite well with video calls but is unpleasant with music and movies. Also, Windows Media Player's own SRS Trubass and WoW effects are superior to those offered by the included Dolby Advanced Audio background application through the speakers or headphones.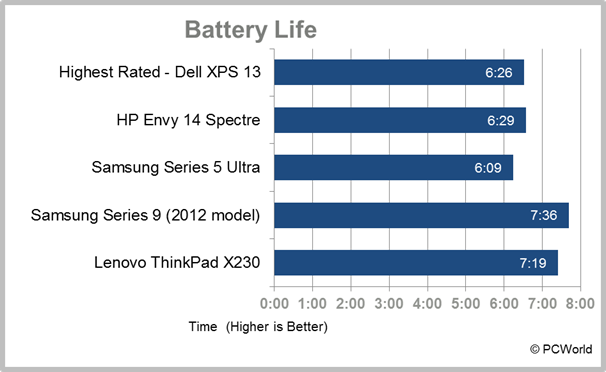 ThinkPad users tend to be less concerned about their laptop's performance than about its usability and battery life. That's a good thing with the X230. Its 87 score on WorldBench 7 is merely okay–a reminder that even Ivy Bridge can be weighed down by excessive background software. The profusion of branding apps and software utilities on the X230 makes it the first laptop I've ever seen that had 100 running processes right out of the box. The X230 perks up considerably when you use the Windows startup configuration tools to trim the number back to 50 or 60.
Gaming is not the X230's strong suit. Frame rates from the on-chip HD 4000 graphics are better than what we saw from the HD 3000 in this class CPU, but they're still not adequate for serious modern games. Games are playable (barely) at 800 by 600 resolution, but that's the limit.
ThinkPads have always been more than the sum of their parts, and the X230 is no exception. IT departments and fans will love the laptop and the vast array of support and warranty options that come with it. There's nothing here to disturb the continuity of the X line. For everyone else, this machine deserves some tire-kicking, especially with regard to the addictive keyboard. But its profile and appearance may not meet modern expectations.