Free Realms, a freemium MMORPG from Sony, claims "millions" of accounts, though how many of those represent regular players is anyone's guess. There are many different ways to play the game; whether the youthful graphics and intrusive upsells render it less playable is a matter of taste.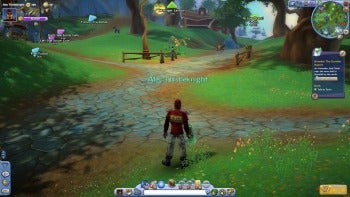 What makes Free Realms interesting is the wide range of dynamic play styles it supports. Whatever kind of task or microgame you're playing at the moment, your character's costume and skills warp to match it. The sheer variety of game modes, from fairly standard button-mashing combat to interactive cooking, means there's likely to be something appealing, at least as a diversion.
Free Realms is squarely aimed at younger players, and the graphic design might cause insulin shock in anyone over the age of 15. One can imagine the graphic artists were fired from Zynga and PopCap for being "too cute".
Despite the name, Free Realms has fairly hefty limits on non-paying customers–for example, you cannot advance any job past level 5. Furthermore, it has the most obnoxious and in-your-face advertising and upsell attempts of any freemium game I've played. Games from much smaller companies, with far fewer financial resources, offer more to free members and are less intrusive about trying to collect cash.
Free Realms can be fun in a candy-colored way, but it's like watching your favorite Britcom on PBS during pledge week; whenever you start to relax and enjoy yourself, here comes the beg-a-thon…except instead of a tote bag, you get a unicorn.
Note: The Download button takes you to the vendor's site, where you can download the latest version of the software.
–Ian Harac