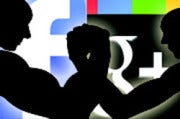 Now that Facebook has gone public and is nearing an astounding 1 billion members, it's a good time to ask whether Facebook's main rival, Google, can compete in the social networking game.
Google said in April that 170 million users had "upgraded to Google+," but the company has been coy when it comes to specifying how many of those people actually use the social network on a regular basis. Some observers have suggested that it's mainly Google employees and hard-core Google loyalists who actively use the service today.
I still think Google+ can win out against Facebook in the end. But to do that, Google must learn how to play to its own strengths.
A lot rides on whether Google can pull that off. For ad targeting, Google can collect the data it needs from the subjects of people's Web searches and the content of email, but that data isn't nearly as personal and valuable as the stuff people willingly provide to Facebook every day. Social network data is far more individual and preference-oriented than other kinds of targeting data, and the long-term competitiveness of Google's advertising business (96.5 percent of its revenue) may depend on Google's ability to get that data.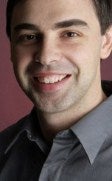 If anybody has a battle plan for Google+, it's Larry Page. The Google cofounder and CEO has given some good reasons why Google+ will become a contender, but his reasons seem highly theoretical at this point.
'Circles' More Closely Resembles Real Life
Page says that the "Circles" structure in Google+ offers a great way to organize your friendships. He's right: The Circles design is immediately intuitive; it's easily understandable, and it works because it replicates the way we manage relationships in real life.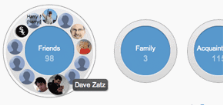 Mark Zuckerberg stresses that you can make "groups" in Facebook to organize friends in the same way. But that functionality was not part of Facebook's original design; the service bolted it on later. And that's why grouping your friends in Facebook is a far clunkier process than it is in Google+. The Circles concept is central to Google+–in fact, Google+ was originally called "Google Circles."
Integration With Other Products
The biggest edge that Google+ might have over Facebook hasn't been exploited nearly as much as it could be. Google's original plan was to build Google+ social networking features and tools into almost all of its existing online services, from search to Docs to video (YouTube).
Google+ is already integrated into the navigation bar at the top right of almost all Google products; this arrangement lets you monitor all Google+ events (updates, messages, and the like) as well as share content with friends without ever leaving the Google service you happen to be using. And the Google+ client for Android makes it really easy to upload, automatically, any photos you shoot on your phone to a private album on the Google+ servers.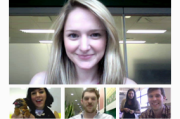 Beyond those features, however, not much has happened since the Google+ site launched last summer. In July 2011, Google was asking users how it could integrate aspects of Google+ into Gmail, and vice versa. What happened with that? I've seen no major integration moves announced between the two products. Can I easily launch a Hangout session without leaving the Gmail app? No. Can I receive Gmail inbox notifications in Google+? Not yet.
Millions of people use Google's assorted free services (Gmail, Docs, search, and so on). For Google+ to flourish, Google must bind those services and Google+ functions together. You need to be able to break into an impromptu Hangouts video chat session involving the people you're collaborating with to build a Google Docs spreadsheet. Your searches, where appropriate, should be much more driven by your social networking preferences and those of your friends.
To compete with Facebook, Google must integrate Google+ with its other killer services so tightly that leaving the Google property you're in and going to Facebook becomes a hassle.
I think Google will eventually execute on this vision. And when it does, it will start to win users away from Facebook. This is a zero-sum game: Most people simply don't have room in their lives for two separate social networks, a factor that's helping Facebook tremendously right now.
Approach to Privacy
People are becoming increasingly aware that large companies like Google and Facebook are collecting the data they enter online, and using it to target ads or selling it to third parties. The constant media coverage of Facebook's notoriously poor stewardship of personal data has done a lot to draw consumer attention to the largely hidden ecosystem of companies that collect, buy, sell, and trade in personal data.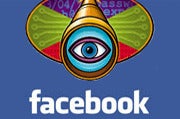 For instance, Facebook makes your name, gender, profile picture, networks, friends, "Likes," wall posts, photos, and profile details public by default, which makes those facts about you searchable.
Previously, you used to be able to set the public-by-default profile picture to private. You no longer can–nor can you change the setting for your name, your cover photos, your networks, your gender, and your Facebook username and user ID.
Facebook has steadily designated more user data as public information because its advertising partners can use the public stuff to target ads on the Facebook site. This data will very likely serve to target Facebook ads on other sites in the near future. And if you don't want to make these data points public, Facebook says (in effect) that you can't use Facebook.
The fact is, Facebook is more dependent on personal social networking data than Google+ is. Google is highly reliant on personal data too, but does not need to collect everything in a social networking setting. As people become more aware of the uses of their personal data, they may see the Google+ privacy approach as a reason to switch.
Data Portability
It's very hard to delete your Facebook data if you decide to quit the service. You can delete your profile, but Facebook makes no promises that it will delete the personal data about you that it already stores on its servers.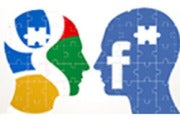 Google makes it relatively easy to permanently delete the data you've banked at Google+, and walk away. You accomplish this through a Google+ tool called Google Takeout; with just a few clicks, you can download data from your Picasa Web Albums, Google profile, Google+ stream, Buzz, and contacts.
The Battle for Personal Data
Of course only time will tell whether Google can assume the social networking throne. The idea of Google+ having anywhere near as many users as Facebook seems a little far-fetched right now. But I still believe that Facebook is not immune to the shifting tastes of social network users. MySpace seemed unstoppable for a few minutes, but slid downhill quickly after Facebook became the cool place to network.
Google has to leverage its obvious advantages to catch up with Facebook. It must put significant energy into expanding Google+ functionality into all of its most popular services. It must promote killer features like Hangouts to new audiences (such as small businesses). It may need to evangelize about how it is more respectful of personal data, and more trustworthy with that data, than Facebook.
Google might also have to invest some of its great wealth to promote Google+. I still haven't seen a Google+ commercial on TV, nor have I seen Google offer any rewards for people who cancel Facebook to come over to Google+.
Regardless, Google's need for personal identity and preference information may soon compel it to take dramatic steps to compete with Facebook.