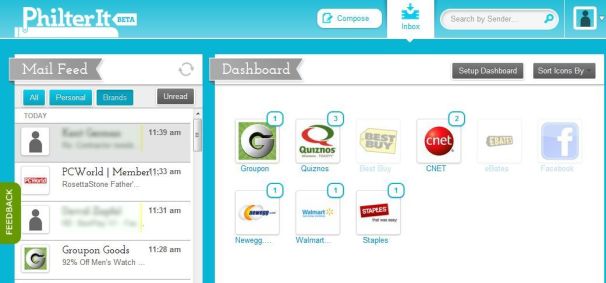 If your inbox looks anything like mine, it's a hodge-podge of messages from people you know, stores you frequent, and social networks you use. In other words, it's a lot of "branded" stuff mixed with personal mail.
Sure, you could set up filters to automatically route non-essential messages to another folder, but that's time-consuming and not always effective (because you have to remember to actually check that folder).
Enter PhilterIt, a clever new service that philters — sorry, filters — branded email and separates it from the personal stuff.
Currently in beta, PhilterIt works entirely inside your browser. It's a simple, attractive mail viewer, one that gives you a choice of views for your messages: All, Personal, and Brands. And because it recognizes a large and growing number of brand domains, it works almost perfectly right from the start.
That start involves signing into one or more AOL, Gmail, and/or Yahoo accounts. PhilterIt will scan your inboxes for known brands, then give you the option of adding one or more to your Dashboard.
The Dashboard gives you an at-a-glance look at the branded items you might actually want to see: Facebook, Groupon, PC World newsletters, and so on. It shows how many unread messages you have for each brand, then lists all the mail for that brand when you click its icon.
Much of this is better shown than explained, so check out the demo video below. It makes the concept crystal-clear.
That said, I found PhilterIt to be very easy to use, and a great alternative to the jumbled, overstuffed norm that is my inbox. It's not perfect, though; there's no way to tag an individual e-mail address as "not a brand," like, say, those that come from my PC World editors. That's not a problem most users will encounter, but it's a feature I'd definitely like to see added.
If you're feeling buried under the weight of branded email but don't want to unsubscribe from all the stuff that interests you, I definitely recommend giving PhilterIt a try.
By the way, the service is by-invitation-only at this point — but I scored you an invite! Just click Register and use the following invitation code: PCWorld. Then hit the comments and let me know your pheelings about PhilterIt.
Contributing Editor Rick Broida writes about business and consumer technology. Ask for help with your PC hassles at hasslefree@pcworld.com, or try the treasure trove of helpful folks in the PC World Community Forums. Sign up to have the Hassle-Free PC newsletter e-mailed to you each week.