Puzzle Pirates (freemium) is an unusual MMO: A puzzle game. In virtually all MMOs, there's some kind of connection between what your avatar is trying to do and what you see when play: You swing a sword, gesture, root in the dirt for plants, and so on. In Puzzle Pirates, though, you pump the bilge or sail the seven seas by playing various sorts of puzzles that make no pretense of modeling, even abstractly, the action being performed.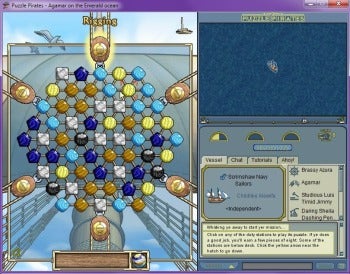 Three Rings Design has created a game in which player skill matters, and where that skill doesn't involve fast reflexes. If you've spent too many hours playing Tetris or Bejeweled or any other pattern-matching puzzle game, you've got the skills for Puzzle Pirates.
Puzzle Pirates has a freemium model, with basic play free, but some aspects of the game requiring purchases to unlock. Some puzzles, for instance, are free on one day, but need a purchase to play them whenever you want.
–Ian Harac