At a Glance
Expert's Rating
Pros
Decently fast
Easy-to-use LCD control panel
Cons
Small starter supplies
Absolutely no two-sided printing support
Our Verdict
A complete lack of support for two-sided printing is a deal-killer for this otherwise competent small-office multifunction.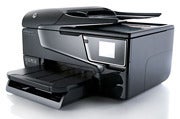 The HP Officejet 6600 e-All-in-One Printer color inkjet multifunction (copy/scan/print/fax) is a puzzler, and a huge disappointment. Priced at $150 (as of June 11, 2012), it's handsome, it has an easy-to-use LCD control panel, and it offers excellent performance as well as decent output. However, for some bizarre reason HP has removed manual duplexing support–a simple software feature that allows relatively easy two-sided printing on printers that lack an automatic duplexer–from the printer driver.
HP has also removed multi-up (thumbnail pages) and every other kind of layout from the print driver. Such features are so commonplace that many consumers just assume that they are available. Put simply: $150 for a multifunction that won't help you print two-sided to save paper? I think not. For the same amount, you can buy a unit with automatic duplexing.
Still reading? The Officejet 6600 would be a nice midvolume office unit if not for the stunted driver. It has a 250-sheet input tray, a 75-sheet output tray, and a 35-sheet automatic document feeder for the A4/letter-size scanner. Despite the ADF, though, I found no option in the control panel to scan or copy in duplex.
The Officejet 6600's LCD is an odd duck, but ultimately it is satisfying. It's not a touchscreen, but a press-screen (resistive): You must depress the covering lightly, as you would with a membrane keyboard, to register selections. Once you get used to it, the tactile feedback is pleasing.
Other than the hobbled driver, the HP-provided software is quite good. It supports push-scanning (scanning from the control panel to a PC), as well as printing across the Internet via the company's ePrint service.
In our tests, text output from the Officejet 6600 was very nice–black and sharp. Photos printed to plain paper had a washed-out appearance. Glossy-paper photos exhibited a high level of contrast, which applied a slightly unrealistic cast to human faces; however, at least for nonhuman subjects, the high contrast evoked a sense of impact.
The Officejet 6600 is a good performer. In our tests, monochrome pages printed at 10 pages per minute on the PC and 9.6 ppm on the Mac. Snapshot-size (4-by-6-inch) photos printed to plain paper at 3.4 ppm and to glossy paper at about 1 ppm. Full page photos printed at 0.4 ppm, and copies exited quickly at 5.1 ppm.
As for consumables, the Officejet 6600 uses a four-cartridge ink system (cyan, magenta, yellow, black) that's basically average in cost with the regular-capacity supplies, but cheaper than most printers in this class when using the high-capacity cartridges. The regular, $20 black cartridge lasts for 400 pages, for a slightly below-average cost of 5 cents per page. The $11 cyan, magenta, and yellow cartridges each last for 330 pages, working out to 3.3 cents per page, per color. Add all of that up, and you get a slightly pricey 15 cents for a four-color page. The $32 XL black, on the other hand, lasts for 1000 pages (3.2 cents per page), and the $16 XL color cartridges each last for 825 pages (1.9 cents per page, per color). Nine cents for a four-color page is quite inexpensive. The unit ships with starter-size cartridges, which are the regular-size cartridges with some extra ink slated for use during the initialization process.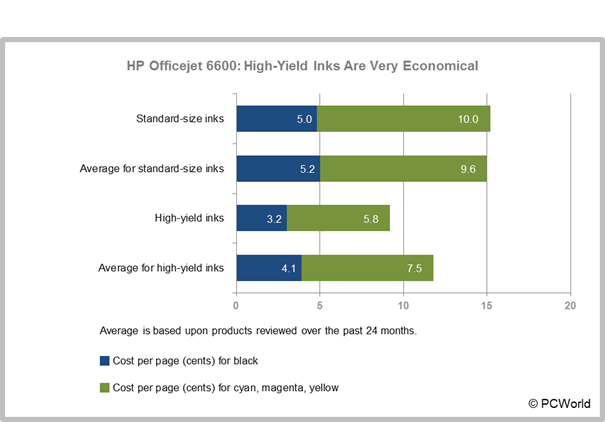 Despite good performance and cheap high-capacity supplies, a $150 multifunction without any sort of duplexing support should be avoided (unless you actually want to double your paper usage, mailing costs, storage space, and such). Instead, choose a like-priced competitor, such as the Canon Pixma MX512 or the Brother MFC-J825DW.