Calling a new Android tablet a potential iPad killer is a cliche. But make no mistake: Acer's Iconia Tab A700 has its sights set on doing just that thanks to an impressive list of specifications that includes a 1920-by-1200-resolution display and 32GB of storage, and a $450 price that comes in at 25 percent below the price of a same-capacity iPad.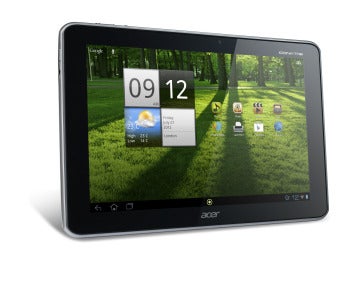 The Iconia Tab A700 goes on presale today, and will be shipping later this month at retail and directly from Acer; it will be available either in black or silver.
Acer was one of two Android tablet makers to introduce a high-resolution, "Full HD" 1920-by-1200-pixel display in January at CES 2012. Asus, the other manufacturer, followed up its CES announcement of a "Full HD" tablet with a renamed variant at the Mobile World Congress in February, but it has remained mum on U.S. availability. In the interim, Apple introduced its third-generation iPad with a 2048-by-1536-pixel display—264 pixels per inch—a move that effectively left Android tablets in dire need of playing catch-up.
Finally, three months later, Acer's A700 becomes the first model to do so. The A700's 1920-by-1200-pixel resolution doesn't quite match the pixel depth of the iPad, but it nonetheless provides a significantly enhanced viewing experience over existing 1280-by-800-resolution tablets (the pixel density is 55 percent higher at the new resolution). The demo unit I saw had crisp, detailed text, images, and video, and the best display I've seen yet from Acer or any other Android tablet maker. I'm eager to get my hands on a sample of this tablet and view my own test images on it. Acer says that the 16:10 aspect-ratio display has a 178-degree viewing angle—certainly sufficient for sharing. The display itself is a 10-point touch-capacitive screen, for improved responsiveness.
Acer also significantly undercuts Apple by offering 32GB of storage built in. That's double the capacity of the baseline Apple 16GB iPad, and Acer does this at a price that's $50 less than that 16GB iPad, and $150 less than a 32GB iPad. Not a bad deal at all. And if you need more storage, this Acer model has a microSD card slot, for use with cards of up to 64GB. I wish this model still had the full-size SD card slot that Acer's first-generation Iconia Tab had, simply because of the camera/tablet interoperability such a slot offers, but microSD at least provides some level of storage expansion—a critical point given that the high-resolution display means you'll want to have more, and larger, media files stored on your tablet.
As the company's premium tablet, Acer goes all-out with the rest of its specs. This model packs an Nvidia Tegra 3 quad-core processor and 1GB of RAM, and it runs Android 4.0 Ice Cream Sandwich. It also has a micro-USB port for charging—a welcome change from the plethora of proprietary chargers we've seen—and data transfers. And it has a micro-HDMI port, via which you can output video to your home theater system (with 5.1-channel Dolby Surround Sound), or use the tablet as a dual display.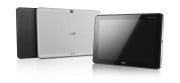 The A700 has Dolby Mobile 3 and improved audio capture capabilities, too. Also present are now-standard features such as integrated GPS and e-compass, 802.11 b/g/n wireless, and Bluetooth 2.1 + EDR. The rear-facing 5-megapixel camera lacks a flash; the front-facing 1-megapixel camera suffices for video conferencing.
The 9800-mAh battery should last up to 10.5 hours for video playback, according to Acer.
Acer bundles Polaris Office 3.5 to read and edit documents, and preinstalls Evernote and its own Acer Print app and Acer Ring navigation interface, all in the name of getting you a head start on productivity.
The one disappointment about the Acer A700 is its size and weight. It comes in at 1.47 pounds—just 0.01 pound more than the current iPad, and about 0.2 pound heavier than some of the lighter Android tablets of the same screen size. And it's 0.06 inches thicker than the iPad. These numbers are competitive, but it would have been better still if Acer had been able to shave a bit off these dimensions to further outdo the iPad.
Next on deck in the high-resolution tablet race will be Asus; I expect the company will have some news soon, since it has previously targeted a summer release for its 1920-by-1200-resolution tablet. Less clear is when we'll hear anything from anyone else, since Acer and Asus are the only companies that had already discussed product plans for this summer. The lack of news from Samsung on the high-res front is of particular concern, considering that Samsung has been a front-runner in innovation and sales in the Android tablet market. They'll get there, I'm sure, but the bigger question is when—and at what price? That, apparently, only time will tell.