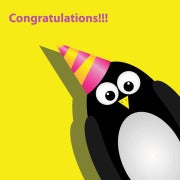 The suspense has been building ever since Linux creator Linus Torvalds was named a laureate for the prestigious 2012 Millennium Technology Prize back in April, and on Wednesday the tension finally lifted when it was announced that Torvalds has indeed won the award.
In fact, just as both Torvalds and Dr. Shinya Yamanaka were named laureates earlier this year, so too have they both been named joint Grand Winners of the 2012 Millennium Technology Prize.
With a prize set at 1.2 million euros, this year's award will be split between the two winners, with each receiving 600,000 euros. The President of the Republic of Finland, Sauli Niinistö, presented the prize today during a ceremony at the Finnish National Opera in Helsinki.
'The Benefit of Humanity'
"The Prize Committee decided, for the first time in the Millennium Technology Prize's 10-year history, to award the Grand Prize to two innovators," said Ainomaija Haarla, president of Technology Academy Finland, which determines the award. "Dr. Shinya Yamanaka's work in stem cell research and Linus Torvalds's work in open source software have transformed their fields and will remain important for generations to come."
Where Yamanaka's discovery of a new method to develop pluripotent stem cells for medical research "could help combat intractable diseases," Haarla added, "Linus Torvalds's work has kept the web open for the pursuit of knowledge and for the benefit of humanity–not simply for financial interests."
The Millennium Technology Prize is awarded every two years for innovations that significantly improve the quality of human life, both in the present and in the future. Previous winners of the prize include Sir Tim Berners-Lee, inventor of the World Wide Web; Professor Shuji Nakamura, inventor of colored LEDs and a blue laser; and Professor Robert Langer, for developing innovative biomaterials for use in tissue regeneration.
The last prize—awarded in 2010–went to Professor Michael Grätzel for his work on dye-sensitized solar cells that provide low-cost renewable energy.
'So Fun and Interesting'
As for Torvalds' win this year, it's hard to imagine any bigger testament to the global reach and importance of Linux in particular and open source software in general.
Commenting on the prize, Torvalds thanked "all the people I've worked with, who have helped make the project not only such a technical success, but have made it so fun and interesting."
Technology Academy Finland included the video below with its press release for the event. It's a fun walk down memory lane, looking back at the creation of what has become one of the world's most important technologies.
Congratulations, Linus, on this well-deserved success!