Update: Since this was first written, Samsung contacted us saying that Amazon published the pre-order page in error, and we confirmed that the page has since been taken down. Samsung says it has not announced final specs, timing, or pricing for this product. The company also says that the information Amazon published "was not entirely accurate," but the company declined to say what wasn't correct.
The Samsung Galaxy Note 10.1 Android tablet made quite an impression when it was first introduced back at the end of February during Mobile World Congress in Barcelona. And now the Note appears to be nearing release in the U.S., if it's appearance on Amazon for pre-order is any indication. Up until now, Samsung has been quiet about its release plans, but the company often makes holiday season announcements in the mid-summer (July) timeframe, which would gel with the company's vague inferences of a summer release for the U.S. market.
At MWC, Samsung made it clear that the Galaxy Note 10.1 would be the company's flagship tablet release for the first half of the year; when the company announced its upcoming tablets at MWC, the Galaxy Note was clearly where Samsung was putting its biggest promotional efforts. Furthermore, the company made no mention of plans for a high-resolution display, as Acer and Asus had already done at CES, and Samsung has since been oddly quiet about what it may do about high-resolution tablet displays.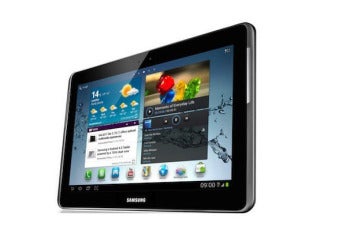 The big hook for the Note 10.1 is that it uses Samsung's S-Pen, like its little phone/tablet sibling before it. The tablet uses Wacom's technology to enable pen input, which would put the Galaxy Note 10.1 into a select group of tablets with a pen or stylus input, an important differentiator and a feature that has value for both productivity and creative input.
The Galaxy Note 10.1 available for pre-order differs slightly from what was first discussed a few months back at MWC, assuming the brief specs provided on the page are accurate. Most notably, the processor is now shown as a quad-core processor, which would be a notable, and necessary, upgrade from the dual-core 1.4-GHz CPU initially planned for on the Galaxy Note. Also, the tablet might seem pricey at $550, but then becomes a bit less so when you consider that the model shown for pre-order has 32GB of storage inside.
The big question that remains is whether the pen alone will help give this tablet a boost over the coming high-resolution displays. Apparently, based on the new information provided in the update above, we'll have to wait a bit longer to see how consumers react to a tablet with a pen, but no high-resolution display. In the meantime, Acer announced its Iconia Tab A700 this morning, and that model will cost just $450 for 32GB and a 1920 by 1200 pixel display. The A700 is due to ship later this month. Asus has been quiet about when to expect its high-res tablet, but earlier this year the company had vaguely indicated it planned a summer release.