For years I've kept my music files in a folder called MP3s. I set up the same folder on my wife's laptop, the idea being that she'd store her own music there.
Recently I decided to have a single MP3 library (stored on a network drive) that feeds both our PCs, so I needed to combine our two MP3 folders into one. Just one problem: There was overlap between them, so I couldn't just dump the contents of her MP3 folder into mine or vice-versa.
What I needed was a way to compare the contents of the two folders, then synchronize them so that each had the most up-to-date files. Then I could delete one and use the other as the "master" MP3 folder.
Doing this manually would take forever, but I found an open-source utility that handles this sort of thing perfectly: the aptly named FreeFileSync. It syncs the files in any two folders, even those on different PCs, and it's free.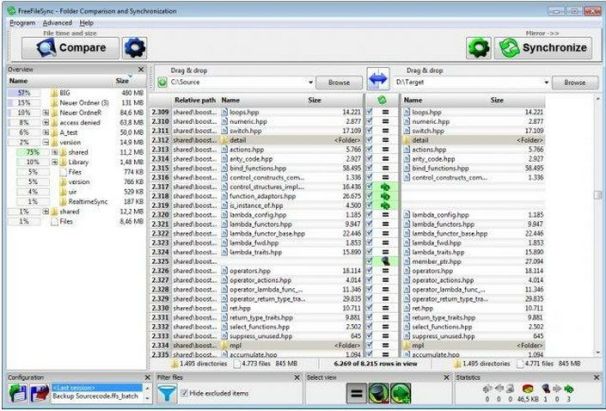 The program can be a little intimidating at first, as it's not immediately clear what to do. To get started, choose the first folder you want to compare by clicking the Browse button near the middle of the window (it's close to the top, just to the left of the blue left-right arrow). Then choose the second folder, this time by clicking the Browse button near the right edge of the window.
The folders you select can be on different drives, or even on different computers if they're connected to your home network.
With that done, click Compare. In a few seconds (or possibly more than a few depending on how many files are contained in each folder), you'll see an overview of the comparison in the left pane, then the contents of each folder in the middle and right panes.
If all you want to do is synchronize the two folders, there's nothing else to do except click Synchronize. By default, this will "identify and propage changes on both sides." The utility handles deletions, renaming, and conflicts automatically.
If you want more control over what gets synced and in which direction, you can click the little gear next to the Synchronize button. Some of the icons and terminology here can be confusing, but the program has built-in help that's pretty good. I recommend reading it before attempting any sync modifications.
I've found FreeFileSync to be a great little addition to my utilities arsenal. It's fast, it's free, and it works.
Contributing Editor Rick Broida writes about business and consumer technology. Ask for help with your PC hassles at hasslefree@pcworld.com, or try the treasure trove of helpful folks in the PC World Community Forums. Sign up to have the Hassle-Free PC newsletter e-mailed to you each week.