At a Glance
Expert's Rating
Pros
Lots of free functionality
Doesn't require Flash
Brilliant recording feature
Our Verdict
Free online drawing tool deviantART muro records your process and lets you share it with others.
Everybody doodles. Or draws, or sketches. It's one of those universal human behaviors instilled into us from kindergarten, or maybe from caveman times. deviantArt muro is a free browser-based drawing tool that invites you to take your doodling online, and offers some fun brushes and an innovative way to record your work and learn from others.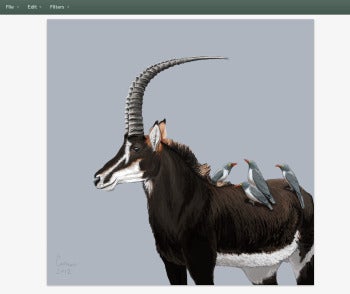 Muro comes from deviantArt, one of the Internet's largest and oldest art communities, established in 2000. Muro itself was launched in 2010, but has recently received a major overhaul. You don't need a deviantArt account to start using Muro, but you do need a free account to save your work. deviantArt muro does not offer as many brushes as free Web-based paint application Psykopaint, but it does make some interesting choices. For example, the default brush you start off with isn't a basic paintbrush (à la Microsoft Paint), but a brush called Webink which makes it easy to create shading by linking your strokes with a web of fine lines. It feels similar to the procedural brushes used on another free Web-based drawing tool, Harmony.
The Webink brush is one of eight free brushes that come with deviantArt muro. Other free brushes include Basic (does what you think), Paintbrush (emulates a soft airbrush actually), Nightmare (similar to Webink but much wilder), the self-explanatory Drippy, Scattered, and Sketch, and Smoke. That last one is my personal favorite; it creates interesting shading effects when you twist and turn the mouse. I was able to use it to draw a fairly creepy-looking rabbit with little effort. Other than the eight free brushes, Muro has twelve paid brushes, divided into three packs. Each pack costs 320 deviantArt points, which works out to roughly $4 at the time of this writing.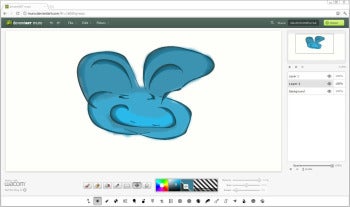 deviantArt muro boasts a "Works with Wacom" logo, which inspired me to reach for my Intuos5 pen tablet and try scribbling with the pen. Muro was responsive, and the brushes worked well. The free Sketch brush was lots of fun to use with the tablet, and felt similar to actually roughing in a sketch on paper. That said, Muro is no Corel Painter, and did not recognize when I flipped the pen over and tried to erase something with its eraser end.
Muro's killer feature, though, is not a drawing tool at all: It is called Redraw, and it records you as you work. You can then share the recording with others, so they get a sense for the process and the workflow and can learn from your work (or offer tips).

A prime example of Redraw is a piece called Sable, in which deviantArt user *tinkerpaws draws a richly detailed ibex with birds perched on its back. By watching the Redraw replay, you can see exactly how *tinkerpaws created the work. Artists often share screencasts of their process as YouTube videos, but this requires third-party recording software. With deviantArt muro, the recorder is built right in, and you don't have to think about it as you work. The only drawback is that it doesn't support audio narration or text notes, so the artist can't explain things as they work.
deviantArt muro doesn't try to be a complete drawing application, but a simple artistic tool. Being an HTML5 application, it should work as well on iPhone and iPad; I tested it on a PC only. Whether used on a PC or tablet, its social sharing feature is truly innovative, and it makes drawing fun and accessible.
Note: The Download button takes you to the vendor's site, where you can download the latest version of the software.
–Erez Zukerman