A worker at a Foxconn facility in southwestern China fell to his death on Wednesday, just a week after a dispute erupted with company employees in the same city.
On Wednesday afternoon, the 23-year-old male was found dead outside his off-campus residence in Chengdu, China, Foxconn said in a statement.
The worker, whose surname was Xie, died following a fall, Chengdu local police said in a microblog posting. Police are investigating the death.
Foxconn manufactures products for many of the world's electronic vendors, including Apple, Hewlett-Packard and Sony. But in 2010, the company drew criticism over poor working conditions at its factories in China when more than a dozen company workers tried to commit suicide over the course of several months, some by jumping from company buildings.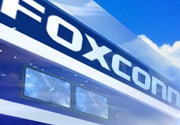 In response, Apple sent then-COO Tim Cook to investigate. Foxconn also installed large safety nets on buildings at its factories in China to help prevent further suicides.
Last week, Chengdu police also reported that 100 Foxconn workers had been involved in a dispute with a restaurant's owner.
On June 4, seven Foxconn workers from the Chengdu campus originally sparked the dispute, after an argument between the restaurant's owner and wife had disturbed their meals. After a report to the police was made, the seven workers returned to their dormitory, calling out "They're beating us." This provoked 100 Foxconn workers to yell and throw trash, according to Chengdu police.
Local police detained four drunken people involved, but no injuries were reported.