Vizio officially entered the PC business Thursday, announcing new laptops and all-in-ones that all start at the same price, $898.
The PCs use Intel's latest Core processors, code-named Ivy Bridge, and run Microsoft's Windows 7 OS. Vizio's plans for the computers was announced at CES 2012.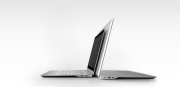 Best known as a TV maker, Vizio showed its first PCs earlier this year. It enters a crowded market that includes Hewlett-Packard, Dell, Lenovo, Acer and others. It will also compete with Apple and its Mac OS computers.
The Vizio lineup includes the Vizio Thin + Light ultrabook, which starts at $898. It's offered with a 14-inch or 15.6-inch high-definition screen, boots up in a few seconds and provides long battery life, according to Vizio.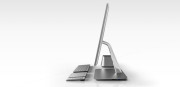 The Vizio Notebook also has a 15.6-inch screen and is described by Vizio as a "multimedia powerhouse." The Vizio All-in-One comes with 24-inch and 27-inch displays and doubles as a high-definition TV, according to Vizio.
The laptops and the all-in-one both start at $898.
The laptops will be sold by Walmart, Amazon.com, Sam's Club, Costco, Target and Microsoft Store, Vizio said. They'll also be available for preorder on Vizio's website starting at 5 a.m. EDT June 15, according to Vizio's Facebook page.
Vizio earlier announced a 10-inch tablet that will run on Intel's Medfield processor, but it is not known when the tablet will be available. The company offers an 8-inch tablet with the Android OS, which is available for $208 on Amazon.com.
Agam Shah covers PCs, tablets, servers, chips and semiconductors for IDG News Service. Follow Agam on Twitter at @agamsh. Agam's e-mail address is agam_shah@idg.com