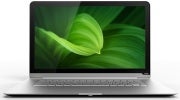 Five months ago, Vizio impressed us with a line of slick new laptops–the first PCs by the company known best for its televisions. Now, Vizio is taking pre-orders on its "Thin + Light" Ultrabook PCs, which will ship by the end of the summer.
There's already no shortage of Windows PCs that liberally borrow design cues from Apple, with PC makers' Ultrabooks inviting more comparisons than ever. But Vizio seems to have nailed the concept.
Just like the MacBook Air, Vizio's laptops are built from a single slab of aluminum. Even with the premium materials, the laptops are fairly thin and light, at 0.67 inches thick and 3.39 pounds for the 14-inch model, and 0.68 inches thick and 3.96 pounds for the 15-inch version. Vizio didn't skimp on the screen either, using a 1600-by-900 panel for the 14-inch laptop and a 1920-by-1080 Full HD display for the 15-inch laptop. The larger of the two isn't exactly a "Retina" display, but it comes close.
As for tech specs, Vizio offers configurations that rival the MacBook Air. Although Apple doesn't offer a 14-inch Air, Vizio's 14-inch model is only about a quarter-inch wider, and less than a half-inch deeper. Both machines offer Core i5 and Core i7 processors, though Vizio also offers a Core i3 model. They both come with 4 GB of RAM and128 GB of solid state storage. (Apple's Airs can be upgraded to 8 GB of RAM and up to 512 GB of solid state.)
Vizio and Apple both claim up to 7 hours of battery life. Vizio's 14-inch screen comes at a higher resolution than the Air, which uses a 1440-pixel-by-900-pixel resolution for the screen. They both offer USB 3.0, and Vizio uses HDMI output instead of Thunderbolt.
(Thunderbolt, much like USB 3.0, is a high-speed interconnect that facilitates data transfer between PCs and peripherals like external storage devices and monitors. However, Thunderbolt is faster than USB 3.0, with data-transfer speeds of up to 10Gbps (gigabits per second). The technology is also attractive as it can daisy-chain up to five peripherals.)
Vizio Pricing Is Key
But the real kicker for Vizio's laptops is the price. While other Ultrabook makers have priced their premium laptops well above $1,000, Vizio's 14-inch Thin + Light PC starts at $900. The $950 Core i5 model is $250 cheaper than the comparable 13-inch MacBook Air described above. The 15-inch version starts at $950 with a Core i3 processor.
It's not all good news, though. Both The Verge and Gizmodo were disappointed with Vizio's trackpads, and The Verge wasn't too keen on the keyboard. (I haven't tried Vizio's laptops since CES, but I thought they worked well back then.) The keyboard and trackpad are hallmarks of the MacBook experience, and can't be measured in specs, so it's disappointing to hear that Vizio may have skimped.
Still, Vizio's combination of low prices, high-end materials, and solid specs will likely make a big splash in the Windows PC market, just as the company disrupted the television market with aggressive pricing. Low-cost PCs are nothing new, but Windows fans may finally have a low-cost MacBook rival to look forward to.
Follow Jared on Twitter, Facebook or Google+ for even more tech news and commentary.