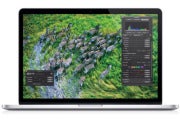 Apple may introduce its second MacBook Pro with Retina display as early as October, according to one analyst.
The purported next-generation 13-inch MacBook would have a screen resolution of of 2560 pixels by 1600 pixels, such as no optical drive and the use of flash storage instead of a hard drive. The new laptop would also have a third-generation Ivy Bridge Core processor clocked at more than 2 GHz, would lack discrete graphics, and be around 0.71 inches thick, KGI analyst Ming-Chi Kuo told Appleinsider.
Although this is the word of just one analyst, Kuo correctly predicted that Apple would discontinue the 17-inch MacBook Pro; however, Kuo also asserted that Apple was replacing the MacBook Pro lineup with a new laptop series, which so far the company hasn't done.
[Related: Review: MacBook Pro with Retina Display Redefines the Concept of a 'Pro' Laptop]
New Model or Replacement Model?
It's not clear if the rumored new 13-inch MacBook Pro would replace the current 13-inch MacBook Pro model or sit alongside it with a higher price than the current version.
When Apple debuted the new 15-inch MacBook Pro with Retina display on Monday, it opted to continue selling the non-Retina 15-inch MBP line. The MacBook Pro with Retina Display has a base price of $2200, while the traditional 15-inch MBP starts at $1,800. Apple's base model 13-inch MacBook Pro sells for $1,200.
Critics have long expected Apple to revamp its MacBook lineup to be more Air-like by offering super-thin designs, flash storage, and no optical drive. Since Monday, the Retina display has been added to the list of expectations for significant overhauls to Apple's laptop offerings.
If you're planning on purchasing a new 15-inch Retina MacBook Pro or are waiting to see if the Retina displays trickle down to smaller Apple laptops, don't expect it to be easily serviceable. A recent teardown by iFixit said the MacBook Pro with Retina display was the least repairable laptop the DIY shop has ever taken apart.
Connect with Ian Paul (@ianpaul) on Twitter andGoogle+, and with Today@PCWorld on Twitter for the latest tech news and analysis.