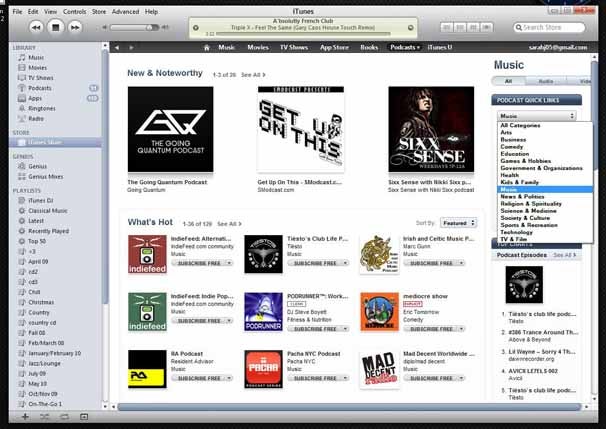 Apple's new version of its mobile operating system is reportedly expected to include an app for the popular Podcasts feature that allows syndicated digital audio files to be downloaded to your device.
All Things D's Peter Kafka writes that when Apple's latest version of its iOS software becomes widely available this fall, Podcasts will get its own app where users will be able to discover, download and play them on mobile devices.
"Users who access iTunes via laptop and desktop machines will still find them in that version of iTunes, though," he writes.
This would be good news for Apple fans who might have been worried that Apple was doing away with Podcasts after the website AppAdvice posted a screenshot that showed a change in which Podcasts had disappeared from the new version of iTunes in Apple's brand new mobile operating system.
But, it apparently isn't going away for mobile devices, it's just getting its own territory. Podcasts has been available on Apple mobile devices since mid-2005 and people love them.
Podcast fans — and there are plenty of them out there — seem to generally like the idea.
For one thing, the More tab probably isn't the optimum place to draw attention to the wealth of content that podcasts bring to users. So getting its own turf will likely be a boon to both the people who consume them, as well as those who broadcast them.

PCWorld puts out a great podcast; you can subscribe to it on iTunes or via the PC World RSS feed.
In the most recent episode, PCWorld staffers Jason Cross, Loyd Case, Alex Wawro, and Armando Rodriguez have a roundtable discussion about Windows 8, some interesting apps that let you use your computer (Windows or Mac) as a window into your phone, and more.
Download the podcast (41:53).
Follow Christina on Twitter and Google+ for even more tech news and commentary and follow Today@PCWorld on Twitter, too.