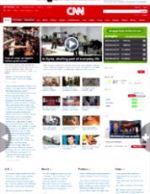 Although Mozilla can't release a true version of Firefox for iPad due to Apple's restrictions on third-party browser engines, it's working on the next best thing: A Webkit-based browser codenamed "Junior."
In a presentation recently posted online, and first spotted by The Verge, Mozilla's Alex Limi ripped into Apple's Safari browser as a "pretty miserable experience." "It feels like it's the one application where they took the desktop version, pulled out the UI and put it into the iPad," he said.
Mozilla gives Junior a unique user interface to help stand out from desktop-like iPad browsers. Instead of putting the address bar on top and tabs immediately below, Junior presents full-screen Web content at all times.
The address bar, bookmarks, and tabs are tucked away on a second screen, accessible through a "+" button that floats near the middle-right side of the display. A back button sits on the opposite side of the screen. Both of these buttons can be expanded to show other options, such as printing, navigating forward, and reloading, but the overall amount of chrome on the page is minimal.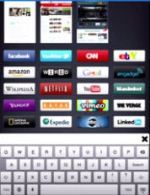 The new tab page shows recently-visited sites as thumbnails on top of the screen, icons for favorite sites in the middle, and a unified search/URL bar below, with the iPad's touch keyboard underneath. The idea is that users have a touch-friendly, visual way to select websites that keeps controls out of the way of the content.
Perhaps the most interesting part of this UI is the list of recently-visited sites on top of the screen. Essentially, Mozilla is combining tabs and history into a single element. Users will be able to see their five most recently-visited sites, and can scroll back in time with a finger swipe. Mozilla hopes this will simplify the process of visiting favorite sites, and eliminate the need to manage tabs. I can't say I'd want that experience on a desktop, but on a tablet, it just might work.
There's no word yet on when Mozilla will release Junior for iPad, but Limi noted that its rivals at Google are "going to ship Chrome for iOS very soon," alluding to previous rumors, so Firefox fans may not have to wait too long for Mozilla's answer.
Follow Jared on Twitter, Facebook, or Google+ and follow Today@PCWorld on Twitter for even more tech news and commentary.