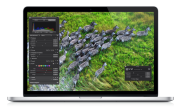 Apple's MacBook Pro with Retina display is not only very difficult to repair, but it will also cost you 54 percent more to replace the battery. Apple updated the pricing list for MacBook battery replacements, highlighting the increased price battery service for the new laptop to $199 before tax.
All MacBook Pro laptops with built-in batteries require a replacement battery two or three years down the line. Since all of Apple's latest models do not feature a user-serviceable battery slot, you have to take it to the Genius Bar to get it serviced. This usually cost $129 for 13- and 15-inch MacBook Pros, but for the Retina MPB, this will be significantly more.
A replacement battery for the Retina MacBook Pro will cost you $199 before taxes, Apple's price list shows, which means this costs 54 percent more than with previous models. In comparison, the cost of servicing the battery on the now-retired 17-inch MacBook Pro, which featured a larger battery than its smaller counterparts, was $179.
The teardown of the $2,200 Retina 15-in MacBook Pro gives a few hints on the reasoning behind the price increase. The battery has 95 watt hours (Wh) at 10.95 V compared to last year's 77.5 Wh battery, and it is not screwed into the machine anymore. Instead, it is glued into it, making it difficult to replace.
When Should Your MacBook Pro Battery be Serviced?
So how long before you would need to service the battery for the new MacBook Pro? Apple claims the battery can be recharged up to 1,000 times at full capacity. After that, the capacity will drop to 80 percent, and so on.
Assuming at least a daily recharge, this suggests that the battery should hold more than two and a half years before you should consider servicing it.
Keep in mind that if the battery is depleted — that is, it has run through the 1000 recharge cycles and it is not holding a proper charge anymore — this won't be covered by your AppleCare warranty (except if this happens before the 1000 cycles). So you will have to pay the $199 plus taxes to get it replaced. If anything goes wrong before that, then you should be able to get a free replacement.
Follow Daniel Ionescu and Today @ PCWorld on Twitter