Want to experience all that the new retina MacBook Pro has to offer? Now you can: One avid user managed to make full use of the massive 2880-by-1800-pixel resolution without any scaling.
A MacRumors forum thread details how to run Apple's latest laptop with the pixel-density turned all the way up by using a program called SwitchResX.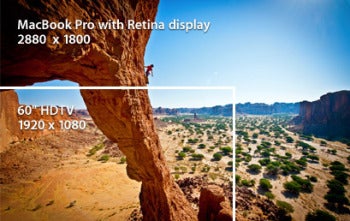 By default, the new MacBook Pro ships in a pixel-doubled configuration, meaning you actually get an equivalent to a 1440-by-900-pixel resolution. This offers no actual increase in desktop space over that of the current standard non-retina MacBook Pro, but the increased pixel density means that items onscreen can appear much sharper than they did before.
A new settings pane on the retina model MacBook Pro gives you five screen resolution options, but none of the options let you turn the scaling off and use the display at its full resolution.
As explained in the forum thread, to get the resolution up to the highest possible setting, you need to install SwitchResX (a free trial is available), create a new resolution setting, save it, and apply. This will then activate the huge 2880-by-1800 resolution.
Before you give this a try, a word of warning: Some users report that this tweak deletes a certain system file required for changing the resolution via the default System Preferences. Be sure to back up, and proceed with caution.
Like this? You might also enjoy…
Get more GeekTech: Twitter – Facebook – RSS | Tip us off | Follow Chris Brandrick