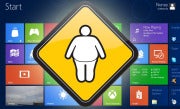 It's time to put your PC on a diet.
You might think that modern computers, with their mammoth hard drives and lightning-fast processors, can shoulder the heaviest software loads without slowing down. So what if Microsoft Office Professional consumes a minimum of 3GB of space and Outlook by itself eats up 60MB of system memory (on my machine, anyway). That can't possibly put a dent in system performance, can it?
You'd be surprised. The larger the program, the greater the amount of RAM required to run it–and the larger the number of hooks it adds to Windows' Registry, and the more significant the overall drag it imposes on your PC. And as you increase the number of "big" apps your system uses, the total impact on PC performance grows. This cumulative effect explains why you should consider trading in your most bloated applications for smaller, slimmer alternatives, even if you aren't concerned about maximizing the performance of your PC. In fact, let's ignore performance for a moment. If you've switched to a solid-state drive, you may find that plain old storage space is at a premium. You might have a skimpy 128GB or even 64GB to house Windows, your programs, and all of your data–all the more reason to look for the smallest programs you can find.
To help guide you, I've rounded up six of the worst bloatware offenders and presented compact, nimble alternatives–most of which just happen to be free.
Bloatware: Adobe Reader
REPLACEMENT: Sumatra PDF
Everyone needs a PDF viewer, but many users mistakenly assume that Adobe Reader is the best and/or only option. In reality, it's probably overkill, burdening your system with features you don't need and enough resource-hogging bloat that it can actually make your entire system run slower.
As an alternative, try Sumatra PDF, an elegant reader that loads in an instant and consumes only a few megabytes of space on your hard drive. In fact, if you get the portable version, you don't even have to install it. In contrast, Adobe Reader can requisition 260MB of drive space, and it loads a startup utility every time you boot Windows. No program should do that, especially if it isn't crucial to your daily work routine. To make matters worse, Adobe Reader tries to sneak in McAfee Security Scan Plus during installation, effectively adding even more bloatware to your PC.
Bloatware: Microsoft Office Home and Student 2010
REPLACEMENT: Kingsoft Office Suite Free 2012 or Google Docs
Microsoft Office is among the most bloated applications on the planet–starting with its price. The Home and Student edition, which costs $120 for a single-PC license, demands the aforementioned 3GB of hard-drive space and consumes considerable system RAM while running.
Most users would fare better (and certainly more economically) by using one of two alternatives: Kingsoft Office Suite Free 2012 or Google Docs. The former looks and functions very much like Microsoft Office 2003, yet occupies a mere 250MB of your hard drive. It also loads much faster (at least on my system).
If that's still too much space for your computer to commit to a productivity suite, consider shifting your word processing, spreadsheets, and presentations to the cloud. Google Docs requires no space on your PC and won't degrade system performance; it runs entirely in your browser. Google Docs offers a fairly basic feature set, but if that's all you need, you'll appreciate its zero-impact footprint.
Bloatware: Microsoft Outlook
REPLACEMENT: Thunderbird
I think we can all agree that Microsoft Outlook is so bloated. (All together: How bloated is it?!) Outlook is so bloated, I can't even see my other programs. It's so bloated, my laptop looks like the Goodyear Blimp. It's so bloated, when Captain Ahab saw it, he threw a harpoon at it. It's so bloated, the feature list on the box says, "See other box."
This information manager/email client is powerful, yes, and popular in many businesses, but it also delivers far more features than the vast majority of users need. And have you seen Outlook's settings menus? They're enough to make even the tech-savviest user cry.
If you just want to send and receive email and manage your contacts and calendar, look no further than Mozilla's Thunderbird. Like Firefox, this fast, mature, stable program lets you trick it out with cool add-ons. And to get it, you don't have to buy Microsoft Office–or spend $140 to buy it as a stand-alone product.
Next: Replacements for iTunes, dedicated instant messaging programs, and Windows
Bloatware: iTunes
REPLACEMENT: DoubleTwist
If you use the latest version of iTunes (10.6.1 as of this writing) to manage your music library, you're looking at a 73MB bite out of your hard drive (and that's just for the download), as well as a bunch of Apple extras that can impede performance.
DoubleTwist, on the other hand, is a 15MB download. It looks a lot like iTunes, and it can import your iTunes music, videos, playlists, and ratings, and sync with just about any mobile device in your arsenal, including iPhones, iPods, and Android phones and tablets. It even has a wireless option, AirSync, for syncing your Android devices cord-free.
Bloatware: Instant Messaging Programs
REPLACEMENT: Imo Instant Messenger
Though a lot of instant messaging now takes place within social-media services like Facebook and Google+, plenty of users still rely on dedicated IM tools such as AIM, Trillian, and Yahoo Instant Messenger. Convenient though they may be, these programs must be installed on your PC, often with extra tools that you don't need or want. Also, they typically run at startup, causing Windows to take that much longer to boot.
The easy fix: Use the Imo service instead. This cross-platform IM service lives inside your browser, so there's nothing to install, nothing to load at startup, and nothing to bog down your PC. Plus, Imo supports every chat service known to man, from AIM to GTalk to Yahoo. And it's free.
Bloatware: Windows
REPLACEMENT: Zorin OS
The King of Bloatware, of course, is none other than Windows itself. Though Microsoft has made strides in streamlining and accelerating the operating system (Windows 7 does boot fairly quickly on newer PCs), it's still the single biggest drag on your hardware. And let's not forget that Windows invariably slows over time, to the point where even the fastest PC can feel as if it's motoring through molasses.
Linux, on the other hand, has a well-deserved reputation for being compact, nimble, and consistent. Most Linux "distributions" (that is, versions–of which there are many) come with everything you might need–a Web browser, an office suite, a media manager, a mail client, and so on. But they run on minimal hardware and require surprisingly little space.
I'm a fan of Zorin OS, which comes closest to re-creating the Windows look and feel while still retaining Linux's speed and stability. Like most Linux distributions, it's free, and it requires just 3GB of drive space. Take it for a test drive on an older PC; you might discover that it's all the operating system you need.