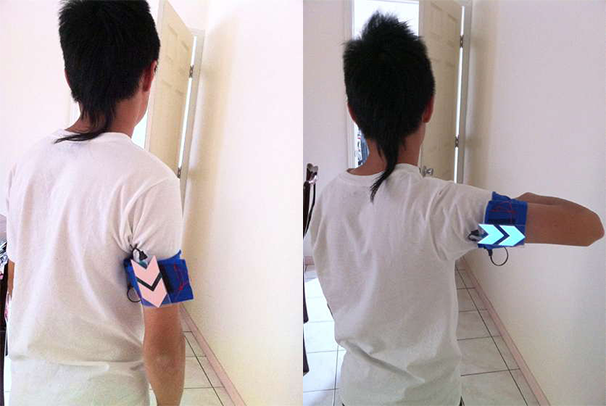 Bicycling is a lot of fun, but riding next to cars can be dangerous, especially if drivers aren't paying attention or if it's dark out. Instructables user CTY1995 has found a way to make biking safer–using technology! Neat! He's come up with turn signals on your arms that light up when you lift your arm, allowing drivers to see you and where you intend to go.
The design uses electroluminescence panels, or EL panels, for the signal indicator; they're flexible and durable, and they don't consume a lot of power. Combine that with a mercury switch to turn on the EL panels when you lift your arm along with a bit of Velcro, and you got yourself a tilt-activated turn signal.
Since bicyclists have to rely on hand signals, this lets drivers and other bicyclists see the signals when it's dark and also makes them more apparent during the day.
The signal is relatively easy to build, and I'm sure somebody with no electronics experience could handle it easily enough. Make sure you check out the comments for the Instructables project, as there are plenty of tips and improvements on the design that you can use.
For a cheap and easy project, these turn signals are pretty impressive, and I can see them being used as the basis for other projects like putting the signals on the bike itself or maybe sewing them into a jacket.
Like this? You might also enjoy…
Get more GeekTech: Twitter – Facebook – RSS | Tip us off