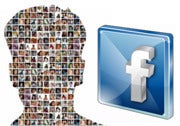 Facebook has acquired Face.com, a facial recognition start-up, in a likely attempt to make photo-tagging easier on the social network.
The acquisition was rumored last month, but is now official. According to TechCrunch, Facebook will spend around $100 million on the purchase–roughly one tenth of what the company plans to spend on Instagram.
Face.com's technology can identify Facebook users' faces in photos or live video. The company already offers a Facebook app called Photo Tagger, which can identify faces and suggest photo tags, and also offers a standalone iPhone app called Klik that can identify friends in real time and adapt image filters to people's faces. Face.com also offers an API so other app developers can use the company's technology.
With the acquisition, Facebook will bring the Face.com team in house. The start-up says it plans to keep supporting third-party developers with its APIs.
Future Plans
Although Facebook and Face.com haven't said exactly what they'll do together, a blog post by Face.com hints at future plans (emphasis is mine): "We love building products, and like our friends at Facebook, we think that mobile is a critical part of people's lives as they both create and consume content, and share content with their social graph," the blog post says.
Considering Facebook's pending Instagram acquisition and the launch of its own Facebook Camera app, it's clear that Facebook is turning a lot more attention to mobile photo-sharing. (Perhaps the sudden rise of Instagram gave Facebook a kick in the pants.) With Face.com in-house, Facebook will be able to help users tag photos faster on their mobile devices–provided they can get over the creepiness of doing so.
Follow Jared on Twitter, Facebook or Google+ for even more tech news and commentary.