As many had speculated, Microsoft announced a new tablet PC at an event today in Los Angeles. Microsoft CEO Steve Ballmer was on hand to unveil yet another Microsoft foray into the hardware world, but this time is producing an actual PC for the first time in its history.
After a brief review of the software giant's history in hardware development, Ballmer announced a new Microsoft tablet called the "Surface." Microsoft says the Surface is designed to fully exploit the capabilities of its new Windows 8 operating system.
"With Windows 8 we don't want to leave any seam uncovered; we wanted to give it its own hardware innovation," Ballmer said. "It's something new, something different, a whole new family of computing devices from Microsoft."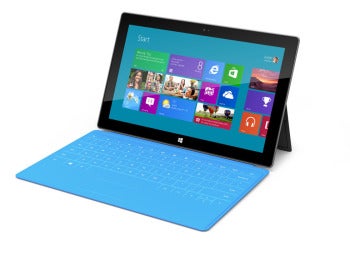 Microsoft is actually releasing two versions of the device: A thinner and lighter (9.3 mm thick, 1.5-pound) consumer version that runs the Windows RT operating system (a version of Windows 8 that runs on ARM processors), and larger version (13.5 mm thick, 1.9 pounds) running the Windows 8 Pro OS, which is aimed at business users.
The Pro version, which uses an Intel Core i5 Ivy Bridge processor, and runs all the standard Windows desktop software like Word and Excel, as well as the Metro apps. It can even run Photoshop, and supports USB 3.0.
The RT version, on the other hand, doesn't support standard Microsoft Office desktop apps; instead, it runs a limited functionality version of Office called "Office Home & Student" as well as Windows Explorer. The RT version supports USB 2.0.
Windows RT Version Specs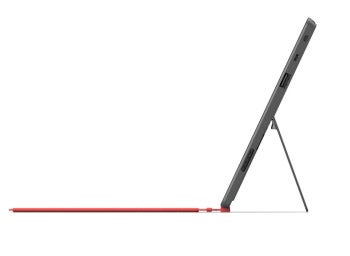 676 grams
9.3 millimeters thick
10.6-inch ClearType HD Display
31.5 watt-hour battery
microSD, USB 2.0, Micro HD Video, 2×2 MIMO antennae
Office Home & Student 2013 RT, Touch Cover, Type Cover
VaporMg Case & Stand
Configurable for 32 GB, 64 GB
Windows 8 Pro Specs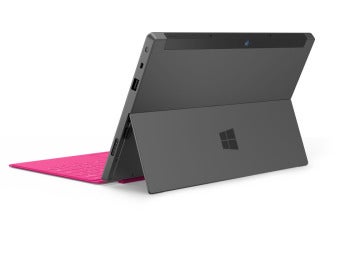 903 grams
13.5 millimeters thick
10.6-inch ClearType Full HD Display
42 watt-hour battery
microSDXC, USB 3.0, Mini DisplayPort Video, 2×2 MIMO antennae
Touch Cover, Type Cover, Pen with Palm Block
VaporMg Case & Stand
Configurable for 64 GB, 128 GB
Microsoft said during the announcement today that it tried to design the Surface to feel like a book. And the cover of this book is one of the Surface's most distinguishing features. It is similar to the Smart Cover that protects the iPad, but Microsoft goes Apple one better by installing a physical, multitouch keyboard on the back of its cover. The cover is connected to the tablet itself, and folds over to protect the Surface's screen.
The Surface's optically bonded 10.6-inch display is also notable. Microsoft describes it as "permanent scratch and wear resistant," and says that it minimizes glare, which makes it perfect for reading. The Surfaces video chops include HD 1080p screen resolution, and a DisplayPort to output full high-res video to a TV.
Microsoft says the Surface is the "first PC with a vapor-deposited (PVD) magnesium shell." The Surface stands upright on a kickstand that's connected on hinges to the back of the tablet.
Microsoft announced no pricing for the new tablet, and no availability date.
Microsoft has just released photos of the Surface (above) and a promotional video: