Microsoft's introduction of its Surface tablet engendered buzz like no other we've seen from Microsoft. The big question is, does it stand up to the hype? The answer, succinctly, is yes.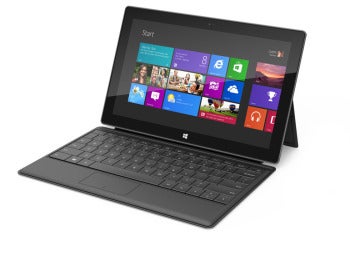 After the event, attendees got a brief audience with the Surface (the second Microsoft product to get that name; prior to today, "Surface" referred to Microsoft's table-top touchscreen computer experience). I saw it up-close, and in limited action, and was very impressed with what I saw.
For starters, Microsoft truly has paid close attention to the details. This tablet is one of the few with a full-sized USB port–and thank goodness for that. The Windows RT version of Surface has USB 2.0, with USB 3.0 on the Windows 8 Professional version. (The Pro version can use USB 3.0 because the core logic chipset of Intel's Ivy Bridge chips support the standard, according to a Microsoft spokesman.)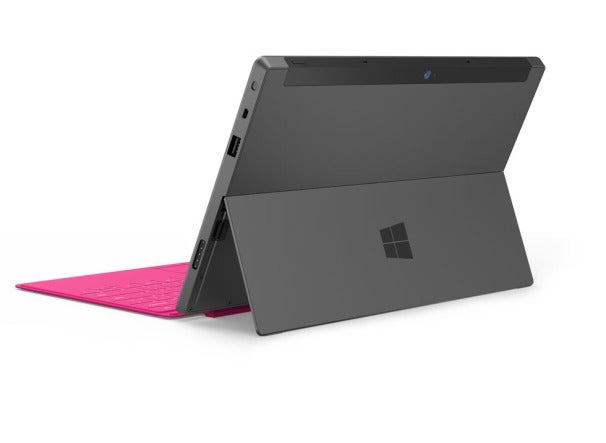 The Surface tablet's integrated kickstand is sheer brilliance, and it felt sturdily designed when I lifted it up and held the prototype tablet by its kickstand. I did that almost automatically, without thinking about potential consequences, and then realized that I had nothing to fear; the kickstand felt as stable as bedrock.
Related: See the Surface in Pictures
The tablet's case felt silky and exceptionally solid, even on these still-early prototypes. (The Windows RT Surface we saw here won't be out until fall, at Windows 8's launch; the Pro version will ship three months later, meaning we'll hear about those at CES 2013.) The exterior magnesium alloy surface is smooth to the touch, and finely finished. And while I wish the tablet were slightly slimmer, the angled edges made it fairly comfortable to hold. The tablet felt extremely well-balanced when I held the tablet in one hand or both. It actually didn't feel as heavy as its listed weight (1.5 pounds for the RT version, 1.9 pounds for the Pro version).
From a Distance
The demo units on show here in Los Angeles were running Windows RT, and had a 1080p quality display. (Microsoft's spec sheet doesn't list an exact resolution.) When I had my all-too-brief moment to handle the tablet, that unit wasn't turned on. Microsoft didn't let us too close to the ones that were on and showing demos on-screen, so I didn't see book-size text up close. That makes it impossible to say how it compares side-by-side with the third-generation Apple iPad's Retina display, or the 1920-by-1200 pixel display on the upcoming Acer Iconia Tab A700. What I saw from a distance impressed me, though, and left me eager to see more.
The benefits of the display's optical bonding were obvious. Bonding is still an expensive process, which is why we don't see it as often as I would like on tablets. Its inclusion on the Surface, frankly, makes me worry that these tablets may cost significantly more than other mainstream models. But there's no questioning the value of optical bonding – it makes text more clear, minimizes glare and improves contrast. And the Surface running Windows RT showcased those benefits well, even under the glarey spotlights at the event.
Cover Up
The Type Cover and Touch Cover are evolved beyond the keyboard docks on tablets like Asus' Transformer series. There, the dock is a physical component that turns the tablet into a netbook-like clamshell. The keyboard in Microsoft's innovative "smart" covers is the tablet keyboard you've always dreamed of: versatile, lightweight, functional, and a true aid to your productivity.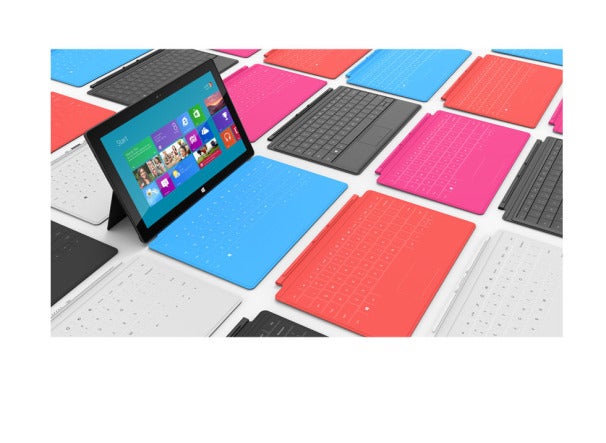 The Type Cover has mechanical keys and a multitouch clickpad. My touch-typist fingers flew over the keys as efficiently as if I were typing on my laptop. The Touch Cover comes in bright and cheerful colors as well as the more staid black, and has flat, pressure-sensitive keys that can detect when you're typing; if you flip the cover around to the back, the built-in accelerometer can sense this and will turn off the keyboard (nifty trick). I couldn't try a Touch Cover hooked up to a unit, but I'll be interested to see how it performs when it comes out. Both options turned the Surface tablet into an efficient and compact device.
We didn't hear anything about whether the keyboard covers draw more power from the tablet, but presumably they do. The Touch Cover is thin, just 3mm, and snaps into place with a sturdy clink thanks to magnetics and components aligning together to keep it in place. (The cover feels more secure than Apple's Smart Cover, which can easily slip-slide out-of-place.)
My hands-on time with the Microsoft Surface was limited, but it made a very good first impression. Microsoft has put other tablet makers on notice. It will be interesting to see how the competition responds.