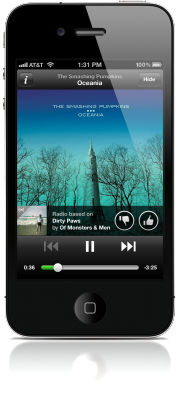 Music streaming service Spotify is moving into Pandora-style Internet radio with a revamped iOS app for iPhone and iPad that includes a mobile radio service for paid and free users.
Spotify's mobile products were originally available only subscribers who paid for its premium service, which left users of the free service stuck with listening to Spotify only on their desktops.
But now Spotify will offer its radio streaming service to all users. Free Spotify users will have to listen to ad-supported radio, while paid users will get an ad-free experience. The new feature is an iOS-only affair for now; a Spotify spokesperson said the company doesn't have immediate plans to extend the radio service to other mobile platforms such as Android or Windows Phone.
Free Mobile Radio
Spotify's new service is similar to what it already offers on the desktop and mimics competing services from Pandora and Slacker. Spotify's radio feature lets you create a "station" (basically an automated playlist) based on a particular artist, song, or genre. You can also base your Spotify stations on one of your playlists or on a friend's. You don't get to pick the songs in your personalized station, but you can skip over songs you don't like (although you can't go backwards through the track list).
Spotify's radio stations allow users unlimited listening similar to what Pandora announced in September. On Spotify, you can also "like" a particular song to add it to a Spotify playlist for later listening. For users of the free service this means you can basically bookmark a song to listen to it later on the desktop. Premium users already have full access to Spotify's mobile service, including playlist and full album listening, so they can listen to "liked" songs right away.
A Spotify spokesperson said there are no track skip limits for the company's radio service if you are a paid subscriber. Free users, however, will be stick with a limited number of skips that are "in line with industry standards." Considering both Pandora and Slacker limit skips to six songs per station per hour, it's a pretty safe bet that Spotify's free users will have the same restrictions on the new mobile service.
Pandora and Friends
While Spotify's new features offer more value for current Spotify users and may convince others to use the service, Pandora and Slacker can still beat Spotify on price. Spotify's premium service costs $10 per month. For that you get Internet radio, plus unlimited streaming access on the desktop and mobile. Spotify also offers a $5 per month ad-free service without extra mobile features.
If price is your main concern, however, Pandora's premium ad-free radio, called Pandora One, costs just $36 per year. Or you can go with Slacker's entry-level subscription for $48 per year–Slacker also offers a premium product for $120 per year.
An updated Spotify app for iOS will be available later Tuesday in the App Store with the new radio feature included.
Connect with Ian Paul (@ianpaul) on Twitter andGoogle+, and with Today@PCWorld on Twitter for the latest tech news and analysis.