At a Glance
Expert's Rating
Pros
Beautiful, large display
Solid camera
Speedy performance
Eye-catching design
Cons
S Voice doesn't always work
Gestures can be frustrating to use
Our Verdict
Despite some gimmicky features, the Galaxy S III is a well-designed, high-performance smartphone.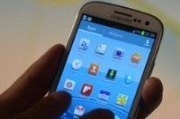 The Samsung Galaxy S III ($200 with a new two-year AT&T contract, price as of June 20, 2012) is one of the most hyped phones this year–and we've finally gotten a chance to spend some time with it. After Samsung's splashy launch event, the lawsuit drama with Apple, and the announcement that this model would be coming to five U.S. carriers, we've had high expectations for this phone.
So is the Galaxy S III the next great Android phone? In terms of design, display performance, and features, I'd say yes. It isn't perfect, however. S Voice doesn't always work well, and some of the sharing features are useless if you don't know other Galaxy S III owners.
Editor's note: The Galaxy S III is coming to Sprint, T-Mobile, and Verizon, as well. Other than the differences in networks, pricing, and storage capacities, the Galaxy S III is identical across the carriers. Although we received AT&T, Sprint, and T-Mobile review units, we did most of our testing on the AT&T version so that we could evaluate LTE speeds.
Design
The Galaxy S III stands out from other smartphones with its curved edges and small bezel. That small bezel allows the Galaxy S III's display to be larger than that of its predecessor (4.8 inches versus 4.3 or 4.5 inches) without forcing the phone itself to be much bigger. Very little bezel surrounds the phone, as the display takes full advantage of the hardware real estate. The Galaxy S III is just 0.34 inch thick and measures 5.37 inches tall and 2.78 inches wide; for comparison, the Galaxy S II on T-Mobile (which had a 4.5-inch display) measures 5.11 by 2.71 by 0.37 inches.
The Galaxy S III feels very much like the Galaxy S II: light, but a bit plasticky. It doesn't have the durable, solid feel of the HTC One S or One X. Still, it is Samsung's most eye-catching phone to date. The S III comes in two colors, "marble white" and "pebble." The white phone looks nice, but the "pebble" color, which is sort of a bluish-gray, is much more attractive in my opinion. I'm getting tired of all-black phones, to be honest, so the "pebble" Galaxy S III is refreshing. It has a cool, brushed look on the back and on the front bottom panel, too.
On the Galaxy S III are two touch-sensitive navigation keys, menu and back. The phone also has a physical home key, which is a bit of a throwback to older smartphones and a departure from the all-software keys on the Galaxy Nexus. Initially Samsung hinted that the U.S. versions wouldn't have a physical button, but here we are. It really doesn't affect the way I use the phone, but some people might have strong feelings about it. I do like having the navigation buttons built into the hardware as opposed to their solely showing up on the bottom of the display, as we saw with the Galaxy Nexus. I could never get used to a phone that omits hardware keys entirely.
Display
Back to the display: It is large, yes–but my, is it pretty. The S III has a 4.8-inch HD Super AMOLED display with a 1280-by-720-pixel resolution. This is the same display technology as on the Galaxy Nexus; according to Samsung, however, the Galaxy S III's display is "more refined" than that of the Galaxy Nexus.
Luckily, we happened to have a Galaxy Nexus in house to do a side-by-side comparison. I loaded the same gallery of photos on both phones. Colors on the S III looked brighter and more vivid than on the Galaxy Nexus. The Galaxy S III displayed a greater range of colors than the Galaxy Nexus did in our color-bar test, too. Unfortunately, I could still see some bleeding between the colors, which is a sign of oversaturation.
Software and Features
The Galaxy S III runs Android 4.0.4 with Samsung's TouchWiz 5.0 overlay. The latest version of TouchWiz looks and feels like the previous versions of the overlay: slightly cartoony, but easy enough to navigate. During the S III launch event, Samsung made a big deal about the Galaxy S III being "inspired by nature." When you unlock the phone, you see an animation that mimics touching water, complete with a water sound effect. When you press one of the hardware keys, you hear a water drop. It feels very Zen–until it gets annoying. Thankfully, you can turn it off.
Samsung has added a few new gesture controls into the mix, such as tilt zooming (useful for Web browsing), shake to update, and flip to mute (useful for ignoring unwanted calls). One feature I really like–in theory, at least–is the ability to take a screenshot by swiping from right to left across the screen with the side of your hand. Whenever I tried to take screenshots, though, I ended up doing something else on accident. For example, I attempted to take a screenshot of a gallery image, and ended up enlarging the image instead.
I wasn't really a fan of the Galaxy S II keyboard, and on this phone the keyboard seems not to have changed much. The keys are too narrow and small, and I made a lot of mistakes while typing a message. Swype is preinstalled, however, so that helps to make typing a bit less painful.
As you might recall, Samsung has released some strange marketing for the Galaxy S III, claiming that it "follows your every move." Creepy? Maybe, but one of the phone's features is its ability to track your eyes via the front-facing camera, which is pretty cool. When you have the phone in front of you, for instance, the screen stays lit and won't lock after a few seconds. If you pull the phone away (or, say, fall asleep playing Angry Birds), the screen turns off. The feature works well, and is a useful tool for saving battery life.
Samsung has its own voice-activated assistant, called S Voice. The Vlingo-powered, voice-activated application works pretty similar to Apple's Siri for iOS in that you can use it to look up answers (also via Wolphram Alpha), schedule appointments, call somebody, and more. You can also use S Voice to control some of the native apps on the Galaxy S III, such as the alarm clock, the Wi-Fi settings, the camera, and Maps. For example, you can say "Cheese" to snap a photo or "Snooze" when your alarm goes off.
I'm not fond of virtual assistants, mostly because I can never get them to work all that well for me. S Voice worked fine when I wanted to control the alarm or take a picture, but navigating with it was a pain. "Navigate to Umami Burger" translated to "Navigate to mommy burner" and "Navigate to Golden Gate Park" translated to "Navigate to Holden State."
Sharing and Multimedia
The Galaxy S III has a slew of sharing features built into the operating system. GroupCast uses Samsung's AllShare application to help you share content such as PowerPoint slides, photos, or PDFs between your Galaxy S III and a DLNA-enabled TV. You can also share with other phones, but only if those other phones are Galaxy S IIIs.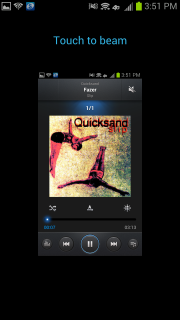 Share Shot is another cool sharing feature that works only with other Galaxy S III phones. You can share full photo galleries with your friends by way of Wi-Fi Direct technology. You access Share Shot directly from the camera mode and press the 'on' button, after which your friends have to connect to Wi-Fi Direct to see the photos. Your photos then appear in their galleries. We tested this function between two Galaxy S III phones, and it worked quite well. I was surprised to see how quickly the photos loaded from one phone to the other.
S Beam uses Android Beam, a feature of Android 4.0, for sharing between phones via near-field communication. You can tap one phone to another and share photos, app download links, URLs, contacts, and so on. This feature works best with Galaxy S III phones, but I successfully shared some content with other NFC phones. I could share Web pages with the Galaxy Nexus, but when I tried to share a photo, I got only a link to the Galaxy S III's directory path instead of the actual photo.
The video player offers an interesting feature that lets you pop it out into a smaller window and continue to watch video as you are doing other tasks such as browsing the Web or answering an MMS. Once again, though, this is a cool idea that doesn't quite follow through in execution. In my tests, I'd accidentally close the video window while panning through a site, or sometimes it would close on its own as I switched to another app.
Video does look excellent on the Galaxy S III's display. All of my test videos played smoothly, and the sound was quite good. You'll definitely want to watch movies on this phone–just don't try to pop them out of the player.
Since the Galaxy S III has a MicroSD slot, you can tack on more storage. Depending on the carrier, some Galaxy S IIIs come with 50GB of Dropbox storage for two years (the Sprint and T-Mobile versions both do, at least, and all of the Canadian versions will).
Performance
While the global versions of the Galaxy S III have Samsung's quad-core Exynos chip, the U.S. versions have a dual-core Qualcomm S4 chip. We tested a series of benchmarks on the Galaxy S III, and it performed very well against the competition. The Galaxy S III outperformed the HTC EVO 4G LTE, which has the same chipset, on the Geekbench, Andebench, and Sunspider JavaScript benchmarks. It lost out, however, to the LG Optimus 4X HD, which has a quad-core Nvidia Tegra 3 processor.
We also tested page-load time over Wi-Fi for the Galaxy S III, using a page custom-built by the PCWorld Labs. The page has multiple JPG images, as well as text and tables. The Galaxy S III loaded the page in 11.5 seconds, while the LG Optimus 4X HD loaded it in 10.3 seconds and the HTC EVO 4G LTE loaded it in 6.5 seconds.
Call quality over AT&T in San Francisco was quite good. My friends sounded clear and natural on the line, with no static or hissing. My friends offered similar praise for the call quality. I did not experience any dropped calls during my hands-on time.
We tested AT&T's 4G LTE speeds using the FCC-approved Ookla app. In the South Park neighborhood of San Francisco, I got an average download speed of 23.28 megabits per second, and an average upload speed of 8.66 mbps. Those are ridiculously fast speeds, and I could see the power of AT&T's network when downloading apps (which took seconds), browsing the Web, and watching streaming video.
In my hands-on time, I found the battery life to be satisfactory. The Galaxy S III lasted through a full day of heavy use (lots of Web browsing, picture taking, and game playing) before I needed to charge it again. We'll update this review with the Labs' formal battery-test results once we finish our testing.
Camera
Competing handset makers have made a big deal about the cameras on their phones, but Samsung hasn't hyped up the Galaxy S III's camera. Not that the company really needs to; in my experience using multiple Galaxy phones, I've always found the cameras to be good. The Galaxy S III's 8-megapixel snapper is no exception.
Image quality was very good on the Galaxy S III. My outdoor photos looked gorgeous, and my indoor photos appeared sharp, though colors seemed a bit washed out. Details weren't as clear as I would have liked, either. The macro mode worked well, but HDR looked strange and blurry. In my opinion, the iPhone 4S is currently the only phone that can get HDR mode to work well.
The TouchWiz camera interface is clean and simple. You get a nice variety of shooting modes, such as HDR, macro, and burst shot, the last of which lets you take up to 20 photos in succession. According to Samsung, the rate is almost three photos per second. Unlike HTC's burst-shot feature, the mode on the Galaxy S III does not automatically choose the best photos for you.
Buddy Photo Share is a neat idea, but it didn't work all that well for me. Theoretically, Buddy Photo Share can use facial recognition to match your photos with your contacts. It was able to match up a few of my friends, but most of the time it failed. I suspect that the more you use Buddy Photo Share, the smarter it will become.
Bottom Line
Is the Samsung Galaxy S III worth all of the hype? I think it is. The Galaxy S III has a certain appeal that makes you want to keep using it. A friend of mine noticed it on my desk, started playing with it, and couldn't put it down. "I need this phone," my friend declared after 5 minutes. The display is irresistible, and the quickness of the phone can't be beat.
The problem with Samsung phones is that sometimes the company goes too far in trying to stand out from the rest of the pack. Some of the Galaxy S III's features feel like gimmicks, especially the sharing ones that let you share only with other Galaxy S III phones. S Voice sort of seems like a me-too feature to compete with Apple's Siri. Really, though, these are just extra frills. At its core, the Galaxy S III is an excellent phone, and Samsung did the right thing in making it uniform across the multiple carriers. And who knows–maybe your whole family and your entire circle of friends will buy the Galaxy S III, so those sharing features will actually be useful.