WikiLeaks founder Julian Assange has requested political asylum from the government of Ecuador, and is under the protection of the country's embassy in London, the whistle-blowing website said in a Twitter message on Tuesday.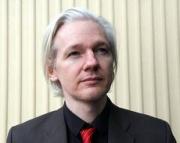 Ecuador's Ministry of Foreign Affairs said in a statement it is evaluating Assange's request and a decision will take into account "respect for the rules and principles of the International Law and the traditional policy of Ecuador to safeguard human rights."
WikiLeaks has published leaked diplomatic cables and other information that embarrassed several governments and international businesses.
The move by Assange comes about a week after the U.K. Supreme Court refused to reopen his case. Assange's supporters fear that from Sweden, he could be transferred to the U.S. to face charges under the country's Espionage Act.
Assange, an Australian citizen, is said to have written to the Ecuador government stating that following statements from his country, it is impossible for him to return to his home country and puts him "in a state of helplessness by being requested to be interrogated by the Kingdom of Sweden, where its top officials have openly attacked me, and investigated me for political crimes in the United States of America, a country where the death penalty for such offenses is still in force."
WikiLeaks also put up on its website a letter said to have been written by Australian attorney general Nicola Roxon to Assange's legal advisor, Jennifer Robinson, in which the official said that Australia did not expect to be a party to any extradition discussions that may take place between the U.S. and the U.K., or the U.S. and Sweden "as extradition is a matter of bilateral law enforcement cooperation." The Australian government would however in the course of providing consular support, emphasize that it expected that due process would be accorded to Assange, and would seek assurances in this regard.
The U.K. Supreme Court ruled at the end of May that Assange may be extradited to Sweden for questioning about allegations of sexual offenses, upholding a lower court ruling and dismissing Assange's appeal. The majority of the members of the court ruled that the European Arrest Warrant which the Swedish Prosecution Authority issued for Assange in November 2010, seeking his extradition to Sweden for questioning over alleged sexual offenses, was in fact issued by a judicial authority.
"I know for a fact that a US Grand Jury has been seriously investigating WikiLeaks – it is thought at this time that there is a sealed indictment against Julian," said activist Jacob Appelbaum in a letter submitted to Ecuador's embassy in the U.K. "I urge you to grant Julian Assange asylum – it may be a matter of life and death," added Appelbaum who is a computer security researcher and a core member of the TOR Project.