Ever think about what would happen if your phone or tablet got lost? Or stolen? Or broken? Suddenly you're without critical contacts, appointment info, documents, photos, and the like.
Scary, no? Forget the basic hassles of trying to reassemble all those items; you could be looking at a major business crisis.
Just as you make the extra effort to back up your desktop data, so should you archive your mobile data. And that process just got a lot easier thanks to Clickfree Backup, a new app for Android phones and tablets.
Clickfree is best known for its automated backup drives, which offer plug-and-play backup for PCs. This app represents the company's first foray into the mobile market — and it's a good start.
Clickfree Backup is about as automated as it gets. It's designed to archive your apps, bookmarks, calendar, contacts, music, photos, and videos — your choice of any or all of them.
By default, the app saves everything to your microSD memory card, but it also supports cloud backups. According to Clickfree, your options here include Box, Dropbox, Google Drive, Microsoft SkyDrive, and SugarSync.
However, when I tested the app, Dropbox was the only available option. I checked with a company rep and was told that a forthcoming update (due as soon as this Friday) will add the missing services.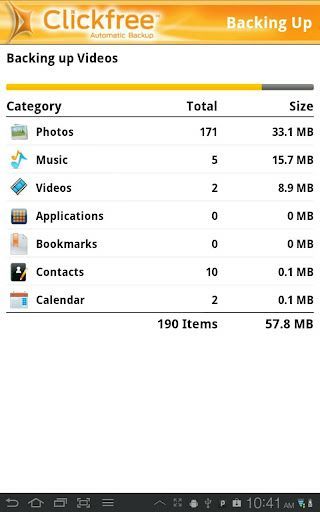 That hiccup notwithstanding, Clickfree Backup works easily and effectively. It literally takes one tap to start the backup process, and restoring is similarly simple. The app also includes a photo viewer and music/video player you can use with your backed up media.
Although the app offers incremental backups (meaning subsequent runs save only those items that have been added or changed), it lacks an automated, scheduled option.
In other words, you must remember to run it from time to time. What's more, you have to choose between cloud and local backups; the app can't perform them both simultaneously. That's a feature I'd like to see.
Those minor shortcomings aside, Clickfree Backup is a great way to protect your data — and you can't beat the price.
If you've found a better backup solution for Android devices, tell me about it in the comments.