At a Glance
Expert's Rating
Pros
Free and easy to use
Attractive layout
Our Verdict
Clipboard is a free and easy tool that lets you save, organize, and view snippets of the Web.
At first glance, Clipboard seems a whole lot like content sharing service Pinterest. And that's because it is a whole lot like Pinterest–it's a free, easy-to-use service that lets you collect little pieces of the Web.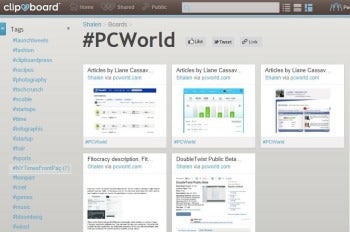 But Clipboard offers more than just the ability to collect Web-based content to share with others. The folks behind it say Clipboard also is suited for collecting and organizing content for your eyes only.
Sign up for an account and you'll be up and running in minutes, at no cost. To save clips, simply add Clipboard's bookmarklet to your IE favorites bar, or download a browser extension if you're using Chrome or Firefox. Then, you surf the Web.
When you find something you want to save–whether it's an image, a video, a bit of text from a Web page, or an entire Web page–you just clip it. When you activate the bookmarklet, a light blue shadow box appears over the Web page. You just drag it over the content you want to clip and click. The content is instantly saved to your Clipboard homepage, in nearly its original form. Text and images are copied, so that their retained no matter what happens to the original source, while videos and Flash-based content are embedded.
Copyright is, of course, an issue for these kinds of services, as Pinterest, in particular, has learned as it has grown. Clipboard handles copyright in a variety of ways. First, the company that says all clips are attributed back to their original source. The company also says it will terminate users who are "deemed to be repeat infringers" of copyright laws. And Clipboard says it will investigate any claims of copyright infringement submitted by the copyright holder.
To organize the content you've collected, browse over to your Clipboard home page. You can organize your clips into orderly clipboards by applying tags, and can mark your clips to be public, private, or shared with just a few folks. You control the sharing by using @ mentions of other Clipboard users or distributing the URL that Clipboard creates. That means, of course, that those non-Clipboard users could distribute that URL freely; once it's out of your hands, there's no way to control who has access to it. It would be nice to see a more controlled way to share content with people who choose not to use the service.
More appealing is how Clipboard lets you view and comment on content. You can click a clip to see it in a larger format, and can play back videos directly within Clipboard. You also can click a button to see the content on its original home. And you can search for other clips, writing comments on anything that's public.
Clipboard offers a cool way to save snippets of the Web. If you're looking to share Web clips or simply save them for your own use, Clipboard will meet your needs.
Note: The Download button takes you to the vendor's site, where you can use the latest version of this Web-based software.
—Liane Cassavoy