At a Glance
Expert's Rating
Pros
Enumerates IP addresses
Easy to use
Cons
Requires pay program for some advanced functions
Our Verdict
Advanced IP Scanner enumerates the used IP addresses on your network and also allows limited remote control.
Free IP scanners abound, and most will tell you what's attached to your network. But if you want one that's easy to use that will wake up and shut down PCs and other devices attached to your network, look to Advanced IP Scanner.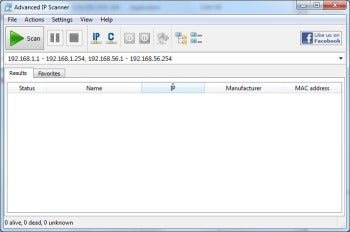 Advanced IP Scanner is easy to use. For most users, pressing the big green arrow to start scanning is all you'll need to do to gather a list of devices attached to your network. You can also define the range of IP addresses to scan, as well as tag favorites for future use without rescanning the network. Advanced IP Scanner lists HTTP, HTTPS, FTP ports when available as well as any shared folders on the PC.
Advanced IP Scanner works in tandem with Famatech's Radmin remote control program. Right-click on any listed PC and you're given the option to run Radmin for that machine. As mentioned, the Advanced IP Scanner also lets you wake up PCs that are set to Wake On LAN and will also shut them down–if you have the authority, of course.
There's not much more to the Advanced IP Scanner. It seemed pretty fast in my hands-on with it, and has a relatively small disk footprint. If you want a little more functionality out of your IP scanner, it's worth a look.
—Jon L. Jacobi