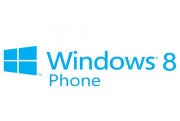 Microsoft announced today that its forthcoming mobile operating system, Windows Phone 8, will become closely linked with desktop PCs and tablets running Windows 8.
Windows Phone 8 is expected to go into general release with the Windows 8 operating system this fall. The first Windows Phone 8 phones will come from Nokia, Huawei, Samsung, and HTC, and will be built with chips from Qualcomm. Microsoft rolled out the new features in a Windows Phone platform preview for developers (who need to know the new features early) at the Windows Phone Developer Summit held in San Francisco today.
With many wondering about the fate of Windows phones in an iPhone world, Microsoft is effectively linking the fate of its mobile operating system to the success of its PC operating system, which is currently used by 1.3 billion people worldwide. It is Redmond's second big announcement this week: The Microsoft Surface tablet event happened Monday.
"The future of Windows 8 is a 'shared core' between Windows Phone 8 and Windows 8," said Windows Phone 8 product manager Joe Belfiore. This means that the two operating systems will share the same kernel, plus the same files system, multimedia apps, and graphics support.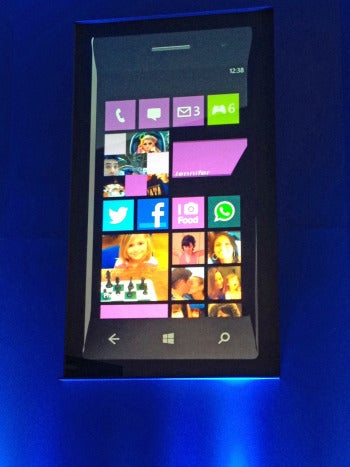 For users, this integration means that apps that work on Windows phones will also work on desktop PCs and tablets, and they will find it easier to share content and apps seamlessly between their Windows Phone and their Windows tablet or desktop PC.
The shared core also will make life easier for developers because they will be able to create content and apps that run on both phones and PCs; they can spend far more time developing, and far less time "versioning."
This in turn should mean that Windows Phone users will benefit from a reenergized development community that will develop cooler apps–apps that could be far more competitive in number and quality than Apple ecosystem apps.
Here are some of the major improvements in Windows Phone 8:
Tiles Interface: Microsoft rolled out a newly designed version of the "tiles" user interface for Windows Phone 8, which it calls the "marquee feature" of the new mobile OS. The tiles are "live" and can show various types of content at different times. (See image above.) And, in connection with the 'Mapping' item, below, you will also be able to make a tile for a Nokia map on the home screen.
Web-Page Rendering: Microsoft also announced that Windows Phone 8 will support the same Web-page rendering engine as Windows 8, so developers can create Web pages for desktops and tablets, and know that the pages will work the same way on phones.
Mapping: Windows Phone will have Nokia mapping technology built in. This comes just on the heels of news that Apple has developed its own mapping app for the iPhone, but Nokia's maps have more development time behind them, and are expected to be a major addition to WP8.
Display Support: Windows Phone is (finally) adding support for standard 720p, WXGA 1280 by 768, and WVGA 800 by 480 displays.
Storage: WP8 will add microSD card support to its phones. Windows Phone users will be able to employ the small memory cards to store memory and move data back and forth between their phones and their PCs.
Mobile Wallet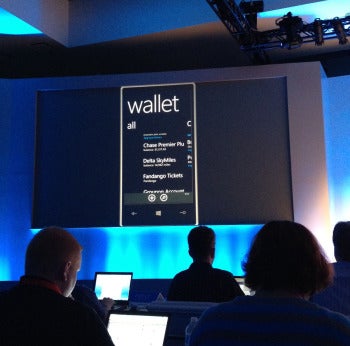 Microsoft will use Windows Phone 8 to catch up with the mobile-wallet capabilities of Android and (less so) the iPhone. Windows Phone 8 will include a "mobile-wallet hub" that will allow users to pay for goods and services with their phones.
Users will be able to store financial information of many different kinds in the wallet, such as bank and credit card data, frequent-flyer memberships, coupons, and even their library card. The wallet will integrate with new apps like the forthcoming Chase Bank app, which was demonstrated at the event today.
Game Development
Microsoft announced that developers will now be able to develop games for both phones and PCs using native C++ code and a set of common APIs (application programming interfaces).
This will allow developers to put up better-looking apps for both platforms, and to spend much less time developing seperate versions for PC and mobile.
The Business Angle
Microsoft is also adding features in Windows Phone 8 to make the OS more business-friendly. These include support for Bitlocker encryption, secure boot, flexible app distribution, and device management. This is a big deal for IT managers, and it will help Microsoft pursue its strategy of winning the consumer phone market by making a phone that works for business life as well as personal use.
Windows Phone 8 will offer IT managers a "Company Hub" feature that will allow them to create a customized experience on the phone for employees.
The hub (see image at left) will show the apps that the employee has already installed, and then suggest some that might be useful, like the "time-off" app. An alerts page will notify employees to change their passwords. Microsoft will also provide templates to help businesses quickly put together miniportals for employees' Windows 8 phones.
No Joy for WP7 Owners
Unfortunately, owners of Windows Phone 7 units will not be able to upgrade to the new OS this fall. The OS update adds support for core elements like dual-core processors, voice recognition systems, the graphics system, and the modem–developments that existing hardware cannot support.
However, Microsoft says that existing WP7 phones will be able to upgrade to WP 7.8, which will at least give them the new interface, or "live-tiles" experience.