Swype, the Android virtual keyboard by Nuance that lets users type by dragging their finger across the screen, just became a lot more useful in its latest beta release.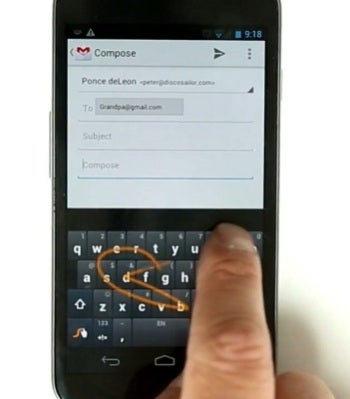 Swype's keyboard is unique in that it doesn't require users to tap on each letter to type out a word. Instead, you simply swipe a finger across the letters, and Swype figures out what you meant to write. It has a learning curve, but the reward is extremely fast typing, and the latest version eliminates some of the frustration of past releases.
The most helpful new feature in the beta is automatic learning of new words. In previous versions, every time you manually typed in a word that swiping wouldn't recognize, you had to hit a button to add that word to the dictionary for future use. Now, Swype remembers new words on its own, so you can concentrate on typing.
New hooks into Facebook, Twitter, text messaging and e-mail histories make this even easier. If you provide your login credentials for these services in Swype's settings, the keyboard will recognize contact names, so you can swipe to write them instead of typing each letter.
This automatic word learning carries over to Swype's voice dictation — at least in theory. The new Swype beta is supposed to pick up on names that you type, so you can speak them during voice dictation, but getting it to work was a crapshoot when I tried it. If I wanted to write something with a strange proper noun, I'll probably stick to swiping instead of speaking, just to be safe.
In case you don't feel like swiping, the keyboard now includes predictive text when pecking out each letter. Like many other keyboards, word suggestions appear in a row on top of the keys. Experienced Swype users might not need this feature, but it could be useful for people who want to experiment with Swype without giving up traditional tap-based text entry. It may also encourage more device makers to set Swype as the default keyboard.
Unfortunately, Swype still isn't available as a standalone app on Google Play — it's mainly intended for device makers to pre-load on their phones — but you can still sideload the beta for free from the Swype's website.
As of this release, users who already have Swype installed can add the beta to their phones as well. That should be a big relief for anyone who's running an outdated version. (The version on my Galaxy S II was so old that the keyboard looked completely different.) Since there's no set timeline for when device makers will update their software, sideloading the new beta might be the way to go even if you already have another version installed.
(For the record, I wrote this post entirely on my phone using Swype just for kicks. I only found a couple of typos.)
Follow Jared on Twitter, Facebook or Google+ for even more tech news and commentary.