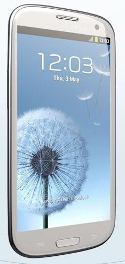 As expected, Samsung's highly anticipated Galaxy S III became available on Thursday through multiple U.S. carriers, with prices starting at US$199.99 with a two-year contract.
The new smartphone, officially announced on May 3, has a host of new features including 4G LTE mobile broadband, a faster processor than earlier models and a 4.8-inch display that can display images at a 1024 by 768 pixel resolution. Android 4.0, Google's latest mobile OS, powers the phone and an added NFC (near field communication) function will allow users to make mobile payments or share files over short ranges.
The U.S. model of the smartphone has a dual-core 1.5GHz Snapdragon processor from Qualcomm, with a quad-core processor available in regions such as Europe and Asia.
With a two-year contract and 16GB of storage, the mobile phone is available for $199.99 through AT&T, where it is listed as being "due today." The smartphone is priced higher, at $279.99, from T-Mobile, where it is already available. The Galaxy S III is available for pre-order on Sprint and Verizon starting at $199. The smartphone will also be available through U.S. Cellular starting at $199.99
An unlocked version of the original Galaxy S III with 3G and a quad-core processor is available through retailer Newegg.com for $685.
Verizon and AT&T offer 4G LTE capabilities, while Sprint said it will complete LTE deployment across the U.S. by the middle of this year. T-Mobile does not yet offer LTE, but has said it will deploy a 4G LTE network next year.
The S III battery life varies, with the carriers listing between eight to 10 hours of talk time and eight to 15 days of standby time. The smartphone weighs 133 grams and is 8.6 millimeters thick. It has an 8-megapixel rear camera and a 1.9-megapixel front camera. Storage ranges from 16GB to 64GB, and the device has 2GB of RAM.
Samsung highlighted content-sharing features such as AllShare Play, which allows the Galaxy S III to beam video images to other Samsung devices on a Wi-Fi network. Users can also instantly share images with other devices in a 200-feet (61 meter) range using NFC.
Agam Shah covers PCs, tablets, servers, chips and semiconductors for IDG News Service. Follow Agam on Twitter at @agamsh. Agam's e-mail address is agam_shah@idg.com