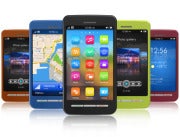 If you're in the market for a new smartphone, don't even think about going down to your local cellphone retailer or AT&T/Sprint/T-Mobile/Verizon retail store to get a new device, at least not yet. Every major smartphone platform including Android, iOS, BlackBerry, and Windows Phone is getting an overhaul with lots of new features, and, presumably, new hardware to go along with it starting in the fall.
Not the Same-Old Update Cycle
Yes, smartphone OS updates happen around this time almost every year, but this time it's different. In 2012, it's not only about software refreshes, but a potential final stand for two smartphone competitors struggling for relevance in an Android and iOS-centric world.
Research In Motion is hurting financially and popularity is crumbling for current keyboard-centric BlackBerry devices. Many critics believe the upcoming touch-centric BlackBerry 10 refresh is the company's last chance to maintain relevance in a post-iPhone world.
Microsoft can't get a significant number of users to try out Windows Phone, but the company is doubling down with new features and hardware support in the recently announced Windows Phone 8. Google, meanwhile, may be only days away from announcing Android 5.0 Jelly Bean. And this fall, Apple will release iOS 6 and, presumably, a new iPhone.
Here's a rundown of the highlights coming this year for Android, iOS, BlackBerry, and Windows Phone.
[RELATED: Microsoft and Google Suddenly Want To Be Like Apple]
iOS 6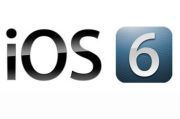 Apple introduced the latest updates for iOS during the company's Worldwide Developers Conference in June. Google Maps is getting the boot from iOS 6 in favor of an Apple-owned mapping utility that will include built-in turn-by-turn voice-guided navigation, real-time traffic information, photo-realistic 3D flyovers of major urban areas worldwide and vector graphics.
Facebook integration is baked into iOS 6, allowing you to share status updates, photos and Web pages from almost anywhere on the phone. Deep Twitter integration, first introduced in iOS 5, will also remain in iOS 6.
Apple is introducing a new feature called Passbook that collects your movie tickets, retail coupons, loyalty cards, and airline and train boarding passes into one spot. There is some speculation about whether Passbook suggests the next iPhone will feature NFC support. Instead of having someone scan your iPhone's screen with Passbook, the next iPhone could tie into an NFC chip to hold your credit card information for mobile payments.
iOS 6 will also have a number of enhancements for current devices and apps including adding Siri voice command support to the third-generation iPad, easier methods to attach photos and videos to e-mail, new options for declining phone calls, offline reading with Safari's Reading List, and easier online photo sharing via photo stream.
Apple's iOS 6 launches in the fall. The company has not yet announced a new iPhone; since 2007 Apple has produced a new device to accompany a refreshed version of iOS.
Windows Phone 8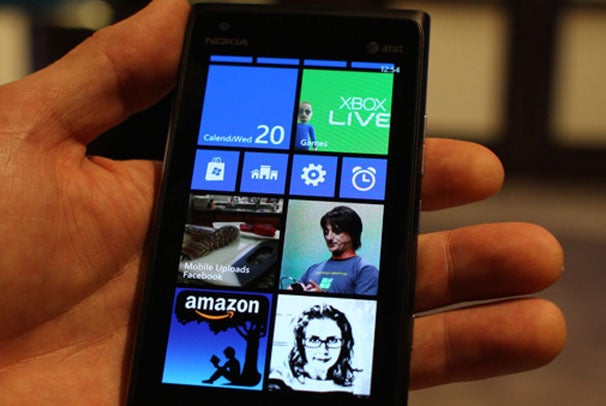 Microsoft has taken the wraps off Windows Phone 8, the next iteration of the company's new mobile platform. Windows Phone 8 will feature an improved start screen with resizable and full-screen live tiles. Internet Explorer 10 will be coming to the platform including features such as an anti-phishing filter and improved HTML 5 support.
There will be an improved camera app with a panoramic mode, self-timer, and Smart Group Shot that takes a burst of photos and automatically creates the best composite image possible out of the different shots.
All Windows Phone 8 devices will use Nokia mapping technology including features such as turn-by-turn navigation, public transportation schedules, and support for offline maps. The new Windows Phone 8 Wallet Hub puts your credit card information in one place to let you pay via NFC. And just like Apple's Passbook, the Wallet Hub stores your loyalty cards, boarding passes and coupons.
[RELATED: Windows Phone 8 Will Be Deeply Integrated With Windows 8 OS]
The biggest jump forward for Windows Phone 8 is improved hardware features including support for Near Field Communication, multicore chipsets, new graphics processor, two new screen resolutions (1280-by-768 and 1280-by-720), and removable SD storage (Windows Phone 7 had integrated, non-removable SD storage).
Windows Phone 8 will also support in-app purchases and enterprise-ready features.
Windows Phone 8 will launch in the fall with new devices expected from four smartphone manufacturers including Nokia, Samsung, HTC and Huawei.
BlackBerry 10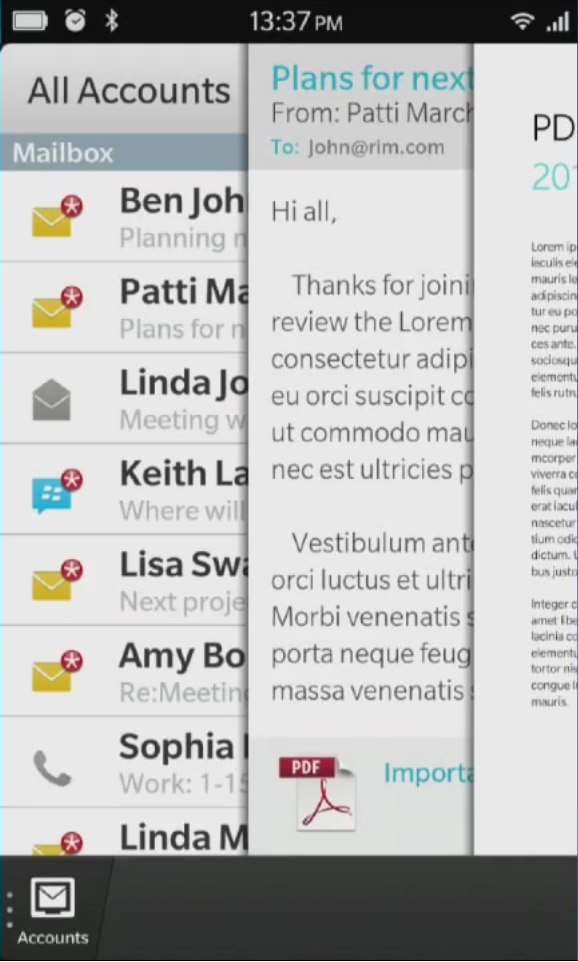 Research In Motion is holding back a lot of information about its new smartphone OS, but we do know BlackBerry 10 is touch-centric with a WebOS-style card interface. BB10 will also have a camera feature that is similar to Smart Group Shot in Windows Phone 8. And the new BlackBerry OS features a predictive software keyboard that over time adjusts to your personal typing style.
That's all we know about BlackBerry 10 other than to say the OS looks slick and the company plans to launch the platform along with new devices in the latter part of 2012.
Android 5.0 Jelly Bean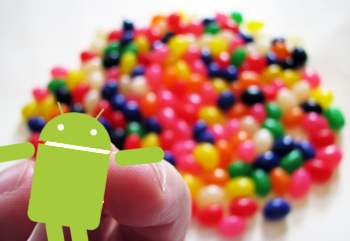 Google is the only company that has yet to announce its next smartphone iteration, but that is expected to change next week when the company holds its annual developer conference, Google I/O. Little is known about the next version of Android other than it is expected to be called Android 5.0 Jelly Bean. Google is expected to launch Jelly Bean this fall with Nexus devices from five different manufacturers, according to The Wall Street Journal, including a new Nexus tablet that could debut during I/O.
If Android 5.0 does debut next week, it will be interesting to see if Google comes up with a solution to getting Jelly Bean to compatible Android devices as quickly as possible. Despite releasing Android 4.0 Ice Cream Sandwich in November, only about 7 percent of active Android devices are using the new OS, according to Google. That's a pretty slow adoption rate when you consider iOS 5 was introduced in October and now accounts for more than 80 percent of all active iOS devices, according to Apple's numbers.
The problem for Android is Google doesn't control software releases to devices and Apple does. Several major Android hardware vendors have to update their user interface overlays before rolling out new versions of Google's mobile OS to existing users. Samsung only released its ICS device update list in April while HTC was still modifying its ICS update plans in May. So if you're an Android user, look forward to a possible Jelly Bean introduction next week, but don't count on seeing the new OS on a handset near you any time soon.
Connect with Ian Paul (@ianpaul) on Twitter andGoogle+, and with Today@PCWorld on Twitter for the latest tech news and analysis.