At a Glance
Expert's Rating
Pros
Seamlessly integrates multiple mediums
Fast operation and easy-to-learn tools
All-in one-image editing, vector drawing, layout
Cons
Templates not available in Trial
Some tools need refining
Our Verdict
Create Web sites, newsletters, CD covers and more from scratch or with powerful built-in templates.
Don't overlook powerhouse Xara Photo & Graphic Designer 2012 just because the program costs only $89 (with a seven-day free trial that can extend to 30 days with registration). If you need to whip-up stunning layouts for print or online, integrate your images seamlessly, and create and edit vector graphics like a pro, Xara Photo & Graphic Designer is one program you shouldn't miss. Xara's overlap of photo editing, vector drawing, page layout, and Web features make it useful, plus Xara is light on its feet and easy to love.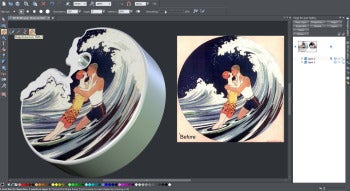 In both looks and power, Xara Photo & Graphic Designer 2013 is much like its bulkier (and more expensive at $300) sister Xara Designer Pro X. Both have a UI that's easy to navigate, and tools that–for the most part–do exactly what you need them to.
For example, Xara's quickshapes will help you draw vector polygons, ellipses, stars, and curves in any variety; the text tool can be used to add text to your design or drawing (much like Adobe Illustrator) or used to flow paragraphs onto pages (à la Adobe InDesign); the Shadow Tool will add a dropshadow to anything; and the Extrude Tool creates a 3D image from your original as you drag. All of this, plus page layout, non-destructive image editing, and Web publishing integrated into one $90 program makes me wonder why anyone would ever use anything other than Xara Photo & Graphic Designer for image editing and vector graphics.
Xara Photo & Graphic Designer 2013 (or version 8) incorporates a few new features, although it will still feel familiar to users of version 7. The most notable new feature is the Color Erase/Select tool. This new feature allows you to make a mask selection based on color, which you then may use Xara's other tools to manipulate. It's an interesting addition, and results vary from brilliant to so-so depending on how distinct your selected color is within your image.
This version of Xara Photo & Graphic designer also includes MAGIX's new Media Exchange system, which allows you to easily share media across all of MAGIX's software that includes the MX title, such as Photo Manager MX Deluxe or Movie Edit Pro MX Plus.
Unfortunately, Xara Photo & Graphic Designer doesn't include the cool Shape Editor Tool that's been added to the updated version of sister product, Xara Designer Pro X. However, the Eraser is included, which makes it easy to delete pixels and reshape vector objects. Other features that are not available in the slimmer (but not emaciated by any means) Xara Photo & Graphic Designer are listed in MAGIX's comparison chart.
Xara Photo & Graphic Designer shares a few annoyances with Xara Designer Pro X, such the fiddly Clone Tool. Draw a marquee around the area of interest, then (in theory) move pixels from another area of your image to replace the identified pixels. It doesn't always work well, and I much prefer the clone stamp in Adobe Photoshop ($699) or even the tool in MAGIX Photo Designer 7 (free), both of which allow you much more control over the stamp, and create a more integrated end result.
That said, if you need to integrate vector graphics into your photographs, or want to have full control over image editing within your page layout program, or want to design Web pages as easily as print pages and without the HTML, Xara Photo & Graphic Designer is the tool for you. If you don't love it after the seven-day free trial, extend to 30 days by registering with MAGIX.
–Clare Brandt